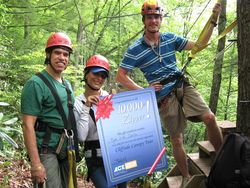 It's always fun to see who will go first on each trip
Oak Hill, WV (Vocus) July 19, 2010
Any anxiety Nixa Lee Davila might have felt about her first zip line canopy tour gave way to surprise Sunday, as ACE Adventure Resort employees surprised her with the announcement she was the resort's 10,000th canopy tour guest.
Davila, of Astoria, Queens, New York, thought ACE guide Kevin Terrell was joking when he asked for a volunteer to go first on the morning adventure activity tour. But when she accepted the challenge, her moment of courage was rewarded as ACE Adventure Resort staff announced the significance of her momentous decision.
"It's always fun to see who will go first on each trip," said ACE employee Scott Perdue. "We've been counting down to reach this 10,000-mark, and we realized the first person who stepped up on today's tour would be the one. It was fun to surprise everyone."
Perdue was on hand to present Davila with a giant-sized gift certificate for two more free trips on ACE's zip line canopy tour.
The zip line canopy tour activity has skyrocketed in popularity among activities in the New River Gorge area. The tour consists of cables strung between trees and wooden platforms in the forest. Guests zip from end to end via pulleys attached to body harnesses, sometimes reaching speeds of 30 mph, as high as 50 feet above the forest floor.
ACE Adventure Resort opened its canopy tour in 2007, the first in West Virginia. Zip line guests more than doubled from 2008 to 2009, and Perdue said the resort expects similar increases this year, thanks in part to ACE's canopy tour having been featured on the Travel Channel's "Extreme Resorts."
"I think more and more people are looking for diverse activities on their vacation," Perdue said. "And the zip line canopy tour is something that anyone can do — it's a really safe thrill."
The demand and market potential have led two other Southern West Virginia vacation outfitters to install zip line canopy tours. To keep up, ACE began construction this summer to expand its canopy tour course, including the addition of side-by-side cables so that pairs of guests can zip simultaneously.
"It will effectively double the length of our canopy tour," Perdue said, adding the improvements should be completed in the next month.
ACE Adventure Resort sits on 1,500 acres in the New River Gorge. In addition to zip line canopy tours, the resort offers whitewater rafting trips on the New and Gauley Rivers, whitewater and lake kayak tours, ATV tours, fishing, mountain biking and more, including a 5-acre lake with inflatable jungle gym toys.
###