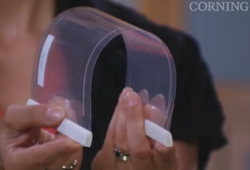 The reason why our design is appealing to electronics manufacturers is the way in which our design makes the rollable screen rigid once it is pulled from the housing.
Tewksbury, MA (PRWEB) June 07, 2012
The fragile and rigid nature of glass has significantly limited its applications in television, smart phone and electronic tablet displays and screens -- until now. Corning, the world leader in specialty glass, has unveiled a breakthrough flexible glass technology that is paper thin, bendable, scratch resistant, and capable of withstanding temperatures up to 500 degrees. "Glass isn't inherently a rigid substance," explains Dipak Chowdhury, Corning's Willow Glass program director. "When it gets super thin, it becomes flexible just like any substance. If you take glass as thick as a business card, it's not flexible. Think about the same business card and make it seven times thinner -- it works like paper." The ability to ream Willow Glass like paper and future potential for high throughput, efficient roll-to-roll processing has opened up a treasure chest of potential applications.
Corning is currently shipping the ultra-thin flexible glass to equipment makers, manufacturers and designers to come up with new uses for its flexible glass. Corning hopes that electronics manufacturers Samsung and Sony, who are currently producing flexible displays, will use Willow Glass to protect their LCD screens. Manufacturers of tablets and smartphones can use Willow Glass to make their current devices thinner, lighter and cost-efficient.
Future applications for Willow Glass are generating broad-based interest in patents relating to flexible LCD and computer screen technologies. Companies with strong patent libraries such as Universal Display Corporation, who exclusively license approximately 1,400 patents worldwide, are well positioned to create future revenue streams through patent licensing opportunities related to new applications for Willow Glass.
Another patent holder that has attracted a lot of attention following the launch of Willow Glass is Boston-based Zipboard Inc., manufacturers of the world's first and only retractable portable whiteboard. Zipboard Inc. recently announced R&D efforts to integrate rollable LCD and computer screen technologies into their patented design. ZipBoard's patent is drawing interest from manufacturers of portable electronic writing tablets that are used for school, office and sports. ZipBoard's patent pertains to writing surfaces that can be extended from a housing and held sufficiently flat to facilitate marking on the writing surface with a writing implement, such as a dry-erase marker, chalk, grease crayon, pencil, pen, permanent marker or the like. ZipBoard's writing surface can be retracted back into the housing to protect the writing surface and to reduce the size of the device for storage or transport, such as within a pocket or briefcase. Retracting the writing surface includes rolling the writing surface onto a spool, accordion folding the writing surface or otherwise reconfiguring the writing surface to make it fit into a compact space.
The Zipboard has numerous applications as a communication tool in sports, health care and education. Willow Glass is accelerating electronics manufacturers' interest in using the company's patented design to house their flexible LCD and computer screens. Zipboard founder, Robert Budryk, said in an interview this morning that "It appears to be a natural evolution of our product to integrate flexible computer screens with our design. The reason why our design is appealing to these companies is the way in which our design makes the flexible screen rigid once it is pulled from the housing. I envision computer tablets in the future that can be rolled up and easily stored on your hip or even in a pocket." The future of rollable computer screens is bright and Budryk, who hopes his technology will be widely adopted, is preparing for the exciting ride ahead.
With patents that are garnering serious interest from manufacturers developing flexible LCD devices, companies like ZipBoard and Universal Display Corporation should see a new world of opportunities through the unlimited applications for Willow Glass.
Sources:
1) foxnews.com/scitech/2012/06/04/corning-reveals-astounding-roll-up-willow-glass-for-flexible-displays/#ixzz1wxasKlK1
2) wiki.answers.com/Q/What_is_the_characteristic_of_glass#ixzz1wxVKzd77
3) google.com/patents?id=m8vIAAAAEBAJ&printsec=frontcover&dq=Robert+Budryk&hl=en&sa=X&ei=pWzOT7LsFoOg2gW4pdDLDA&ved=0CDQQ6AEwAA
4) seekingalpha.com/article/626061-buy-universal-display-corporation
5) tomshardware.com/news/Gorilla-Glass-Corning-Flexible-Glass-Curved-Glass-Willow-Glass,15879.html
6) pcworld.com/article/256873/corning_introduces_ultraflexible_papercutinducing_willow_glass.html
7) gizmodo.com/5915478/what-crazy-gadgets-will-be-made-with-cornings-new-flexible-glass
8) technewsworld.com/story/75292.html
9) improvelectronics.com/us/en/boogie-board-LCD-writing-tablet/boogie-board-10-LCD-writing-tablet.html
10) bbc.co.uk/news/technology-18329974
11) foxnews.com/scitech/2012/06/04/corning-reveals-astounding-roll-up-willow-glass-for-flexible-displays/