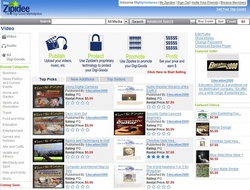 Buyers and sellers need the freedom to transact on their own terms, without the restrictions imposed by services like iTunes. Much like the marketplace eBay created for sellers to monetize their physical goods, Zipidee has created a platform to allow sellers to monetize their digi-goods
SAN FRANCISCO (PRWEB) October 15, 2007
"A new video segment that is between consumer-created video and premium content has emerged," said Allen Weiner, a Managing Vice President at Gartner. "Gartner is calling this new content sector the protail, and it consists of professionally produced short video clips and shows. The quality of this content places it between premium content and consumer creators who make up the long tail, and it could have a dramatic time share and financial impact on both. This protail market holds enormous potential."
"Buyers and sellers need the freedom to transact on their own terms, without the restrictions imposed by services like iTunes. Much like the marketplace eBay created for sellers to monetize their physical goods, Zipidee has created a platform to allow sellers to monetize their digi-goods," said Henry Wong, Zipidee Founder and CEO. "Zipidee's self-serve platform offers sellers feature-rich tools unlike anything that is currently available, including choice of business model (rental, download, or subscription), optional DRM, flexible pricing, and real-time dashboard reporting. These tools provide an unprecedented opportunity for buyers and sellers to set the rules in an open marketplace."
With Zipidee, sellers can easily establish an account, opt to use Zipidee's patent-pending Digital Rights Management (DRM) solution, and start uploading their digi-goods to complement existing sales channels or create an entirely new distribution channel. Zipidee's self-serve platform allows sellers to create their own online storefronts, set and adjust prices, and start selling their digi-goods in minutes. Sellers also have access to My Zipidee, a personalized business intelligence tool that allows sellers to track sales and produce reports to monitor and gauge sales in real time.
"Partnering with Zipidee has given me a turnkey infrastructure to make my content available for digital distribution," said Reto Lingenhag, CEO, Education 2000 Inc. "It took just minutes for my library to be converted, uploaded, and made available for purchase. I am able to set a unique price point for each title and adjust my pricing according to demand and perceived value, thereby maximizing my profits. I don't have to worry that my content will be shared on other video sites - Zipidee protects my digital goods whether they're streamed or downloaded."
Buying and downloading digi-goods from Zipidee is easy. Buyers simply register for an account and can search Zipidee's broad library of content by keyword or category to begin purchasing digi-goods. Zipidee accepts payments via credit card or through the use of pre-paid credits.
Zipidee's self-serve turnkey platform includes:
-- An opt-in patent-pending Digital Rights Management (DRM) solution
-- My Zipidee: a real-time transaction engine and reporting dashboard
-- Flexible pricing and the option to sell media in a rental, download, or subscription model
-- Promotional and affiliate widgets to drive viral marketing
Zipidee also announced that it has closed Series A funding from the following leading investors: Individuals' Venture Fund, Novus Ventures, and Khalda Development. Zipidee's Board of Directors includes Roger Barry of Individuals' Venture Fund, Colin Evans of Sandwith Ventures and Co-Founder of StubHub (NASDAQ:EBAY), Christine Comaford-Lynch of MightyVentures, Christopher Williams of Khalda Development, and Henry Wong, CEO and Founder of Zipidee. Zipidee was recognized among the top four out of 37 start-up companies that participated in the September PlugandPlay start-up competition.
To begin buying and selling digi-goods, register today at http://www.zipidee.com.
About Zipidee
Zipidee is the premier Prosumer Generated Content (PGC) marketplace for digital goods. Zipidee empowers PGC digi-good owners, from aspiring media moguls to large media companies, to generate revenue from their existing digital assets. Zipidee is the online marketplace for all digital media: video, music, eBooks, ringtones, wallpaper, and more. The Zipidee platform provides the tools for content owners, distributors, and networks to publish, protect, promote, and profit by selling their original digital content, complementing their existing sales channels. Zipidee offers sellers the choice to utilize its patent-pending DRM solution that protects digi-goods from copyright infringement. By giving sellers the freedom to choose how they distribute their digi-goods, from business model to price point, Zipidee allows buyers and sellers to rule and transact in an open marketplace. Zipidee is a privately held San Francisco-based company and is venture backed by leading investors. For additional information, please visit http://www.zipidee.com.
Copyright (C) 2007 Zipidee, Inc. All Rights Reserved. 540 Howard St. Suite 203, San Francisco, CA 94105. All trademarks, trade names, service marks, and logos referenced herein belong to their respective companies.