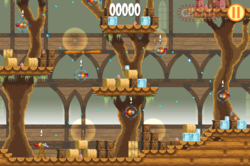 It's meaningful to mobile game developers, because Wolf Toss was created by a small game team using Moai and is now available for half a billion devices between iOS, Android, and Chrome.
Todd Hooper, CEO of Zipline Games
Seattle, WA (PRWEB) December 08, 2011
Zipline Games, a Seattle-based games studio and the creator of the Moai game development platform, today announced worldwide availability of their new game, Wolf Toss, on iOS, Android, and the Chrome Web Store. The free-to-play, physics-based puzzle game with in-app-purchases and social network integration runs as a native application on mobile devices and as a Native Client application inside the Chrome browser. The game was created by Zipline's studio team using the open source Moai platform and cloud services.
"Wolf Toss is a lot of fun. I spent a big chunk of my Thanksgiving holiday playing the release candidate, said Todd Hooper, CEO of Zipline Games. "It's also meaningful to mobile game developers, because Wolf Toss was created by a small game team using Moai and is now available for half a billion devices between iOS, Android, and Chrome. Performance is great on all three platforms and there was no need for an expensive porting effort. It's great to follow up on the success of Crimson: Steam Pirates with a title of our own that showcases the power of Moai to bring a polished, freemium game to an amazingly broad player audience."
In Wolf Toss, players guide the Big Bad Wolf in his quest to catch and eat the Three Little Pigs, firing him from cannons, exploring huge levels, and circumventing towering defenses that go way beyond hay, sticks and bricks. Combining elements of popular knock-em-down games and retro D-pad platformer titles, beating Wolf Toss takes strategy and a huge variety of power-ups to burn, roll, float, blast and teleport the wolf past rubber walls, moving platforms and spinning propellers to delicious victory. There are three unique worlds to explore and a built-in cheat system to get players through the toughest spots.
Billed as the mobile platform for pro game developers, the Moai platform differentiates itself through its cloud-based game services and rapid development of iOS, Android, and Chrome titles, all built in the industry standard Lua scripting language. Zipline has been targeting mobile development efforts at top studios and mega-hit mobile titles and has previously announced Moai's use by Bungie Aerospace, Harebrained Schemes, DistinctDev and Nay Games. Developers interested in Moai are encouraged to create an account today at http://www.GetMoai.com.
About Zipline Games
Zipline Games is a Seattle-based mobile games company and the creator of the Moai game development platform. Zipline was founded by game industry veterans experienced with the challenges of mobile games development and with the vision of making development faster and easier so developers can focus on creating innovative games with great gameplay. Zipline's investors include Founders Co-Op, Benaroya Capital and Groundspeak. For more information, please visit http://www.ziplinegames.com.
###