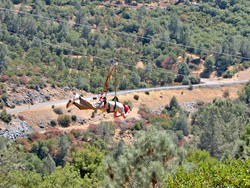 I thought it was the most wonderful thing I've ever done. The (Super Style) was my favorite because you didn't have to hold on to anything and your arms were free. It was like flying.
Vallecito, CA (PRWEB) August 28, 2008
When adventurous Antioch resident Royal Yocum turned 90 he jumped out of an airplane. For his 91st birthday this year, he was on the lookout for another suitably adventurous activity. When he came upon an article in the San Francisco Chronicle's travel section earlier this year on Moaning Cavern's zip lines, he knew he'd found his next birthday thrill.
Yocum, his 83 year old girlfriend, Mary Erickson, and four other family members arrived Saturday morning at Moaning Cavern Park and chose a 3 Zip Combo in which the 3rd zip could be done Super Style. This more aerodynamic zip is done in a horizontal position, face down. The result is an average 50 MPH zip speed, compared with the 40 MPH average speed achieved in the regular seated position.
Yocum was delighted. The additional thrill this would add to an already exciting experience was right up his alley. As he says: "I'm getting to the point where I just love wild things now, I don't know why."
All six members of the group raced along the quarter mile twin zip lines in the seated position, then 4 of them chose to continue on to Super Style. Yocum said "I thought it was the most wonderful thing I've ever done. The (Super Style) was my favorite because you didn't have to hold on to anything and your arms were free. It was like flying."
Yocum's daughter, Sacramento resident Roila Norgol, said: "My favorite part of the (day) was watching people's reactions watching Dad. Everyone was wishing him a happy birthday."
What's next for Royal Yocum? He is already working on an appropriately thrilling activity for his 92ND birthday: riding in the Goodyear Blimp.
Zip lines are becoming increasingly popular for pure entertainment because everyday adventure seekers can experience high adrenaline, extreme thrills without any prior experience. Anybody who is in moderate health, and can fit in a harness, can experience the fast paced, high intensity adventure of zip lining. All that's needed is the courage to step off the platform.
Moaning Cavern, run by Sierra Nevada Recreation Corporation (SNRC), has been tempting adventure seekers for almost 30 years with rappelling and spelunking excursions below ground. It seemed a natural transition to president, Stephen Fairchild, to start quickening pulses above ground too. "We're here to provide fun and adventure experiences to the general public. With the zip lines, we have added something that falls into our adventure activities lexicon, while also taking us into exciting new territory."
Most zip lines are engineered to carry riders in an upright, seated position, but early on, Fairchild was ambitious to develop a Super Style zip, emulating the horizontal flying position of a super hero. This new innovation requiring a different harness setup and smoother braking system was introduced in June this year.
Zips are offered daily, year round, weather permitting. Moaning Cavern Park located at 5350 Moaning Cave Road, Vallecito, California, is open all year, regardless of weather. Individual zips are $39 each. The Moaning Cavern Super Style Zip is available as the 3rd zip in a $93.50 Three Zip Combo. All participants must be between 70lbs and 280lbs. More information can be found at moaningcavern.com.
SNRC, operating as "Cave and Mine Adventures" offers guided underground walk tours and/or extended expeditions into its five locations: Black Chasm Cavern, California Cavern, Gold Cliff Mine, Moaning Cavern and Sutter Gold Mine. SNRC offered the first rappel and caving expeditions into public show caves in the 1980s in Moaning and California Caverns.
Contact:
Lisa Boulton, Marketing Director
Sierra Nevada Recreation Corporation
(209) 481-5824
http://www.caverntours.com
###