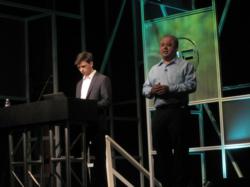 "The launch of our industry-first cascading payment solution gives these merchants a way to convert what would otherwise be lost transactions into paid transactions - a win-win for both the merchant and consumer", stated Alan Safahi, CEO of ZapZap
San Francisco, CA (PRWEB) May 16, 2012
ZipZap, Inc., the leading global cash transaction network, announced the launch of CashCade™ to an audience of over 1,000 members of the fintech community at FinovateSpring 2012. CashCade, ZipZap's patent pending cascading payment solution, provides eCommerce merchants with an automated cascading payment option enabling every transaction to be approved.
"Prior to CashCade, declined credit and debit transactions would see consumers abandoning the shopping cart resulting in lost revenues to the merchant", stated Alan Safahi, Founder and CEO of ZipZap. "The launch of our industry-first cascading payment solution gives these merchants a way to convert what would otherwise be lost transactions into paid transactions - a win-win for both the merchant and consumer."
Through a simple API integration, eCommerce merchants are able to add the CashCade option to their shopping carts ensuring no more lost revenue from card-based transaction being declined, by giving consumers the option to pay cash. The CashCade payment option is largely flexible based on the shopping cart experience, and automatically offers the consumer the ability to pay with cash as soon a card decline notification is presented. The consumer selects "Pay with Cash", prints the auto-generated Payment Slip and takes it to anyone of ZipZap's 700,000 Payment Center locations worldwide where they are able to complete the transaction by paying cash.
CashCade is available to merchants today for integration into their shopping carts. For details of ZipZap's launch of CashCade at FinovateSpring 2012 and the feedback received, visit the Finovate Blog at http://www.finovate.com or view an interview with ZipZap's CEO at http://youtu.be/qzplK_t5VXU.