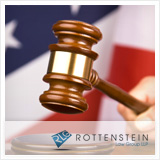 (PRWEB) May 06, 2013
The Rottenstein Law Group, which represents clients in Zithromax lawsuits, notes a recent medical journal article cautioning doctors to consider the risks and benefits of antibacterial therapy before prescribing Zithromax.
A New England Journal of Medicine article dated May 2, 2013, states that physicians deciding whether to prescribe azithromycin—which is often sold under the brand names Zithromax and Z-Pak—should consider "data point[ing] to lethal arrhythmias as a potential consequence of QT-interval prolongation with use of azithromycin" and other medication.* The possibility of azithromycin increasing a patient's risk of lethal arrhythmias is especially important for physicians to consider when weighing the pros and cons of antibacterial drug therapy "for patients with preexisting cardiovascular risk factors or clinical conditions in which antibacterial drug therapy has limited benefits," the article states.
As a law firm that represents thousands of clients in lawsuits seeking compensation for injuries allegedly caused by dangerous drugs and medical devices, the Rottenstein Law Group urges anyone who has suffered the alleged adverse side effects from Zithromax or any other prescription medication to speak to a qualified personal injury lawyer as soon as possible. The firm maintains a Zithromax Lawsuit Information Page that has features that allow for easy sharing, including links for automatic posting on Facebook and Twitter, specifically to enable visitors to spread the word about the dangers of Zithromax.
About THE ROTTENSTEIN LAW GROUP
The Rottenstein Law Group is a New York-based law firm that represents clients nationwide in mass tort actions. The firm's founder, Rochelle Rottenstein, has more than two decades of experience as a lawyer. She compassionately represents clients in consumer product injury, mass tort, and class action lawsuits. (Attorney advertising. Prior results do not guarantee a similar outcome.)
*http://www.nejm.org/doi/full/10.1056/NEJMp1302726?query=TOC&
Contact:
The Rottenstein Law Group, LLP
Rochelle Rottenstein, Esq.
321 W. 44th Street
# 804
New York NY 10036
(212) 933-9500 (office phone)
(212) 933-9980 (facsimile)
rochelle(at)rotlaw.com
http://www.rotlaw.com
###