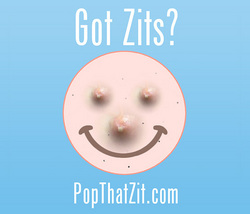 Everyone loves a good pop!
Denville, NJ (PRWEB) November 10, 2010
PopThatZit.com is a website dedicated to Zits , acne, cysts, and similar skin conditions. It has had appearances on Rosie o Donnell, XM radio, and the Tyra Banks show as well as multiple radio stations across the world. Since it first was introduced to web browsers four years ago, there have been quite a few updates, including the newly integrated video player which provides visitors with a much easier and more convenient way of watching clips on the site. There is also a new ad system that has been put on and there are currently over 5,000 members.
Participation in this website has never been higher. Thousands of people from all over the world share their own videos, comments, and thoughts on the website all the time. Another addition to Pop That Zit is the integrated system of private messaging which is now available to all visitors. This feature provides those who go to the site a way to communicate back and forth while they are on. There have been a lot of new and interest additions in the four years it has been around, offering visitors the chance to interact with one another and explore different parts of the site.
There are also new custom videos from various members on the site, including The Wisconsin Cheese Head series. It is a series created by one of the members on the website in which they make a tradition of filming popping sessions using her brother in law as the main entertainment. Pop That Zit has experienced quite a lot of buzz lately, mostly due to the fact that it has been introducing so many different features lately and allowing members to get involved in ways that they were never able to before.
Pop That Zit is essentially a forum for zit-poppers to share information on bodily growths and whatever happens to be on their minds. It has undergone a lot of major changes recently, giving those who visit a voice when it comes to discussing various topics. The forum section of the website is active with numerous members posting everything from zit contests to their own problems/updates. The forum is also a place where visitors can request help from others on sensitive topics that need immediate attention.
The Acne Treatment section of the website is a helpful resource for those who are looking for a way to get rid of unwanted zits and pimples. It provides detailed information on how to go about getting rid of acne by purchasing the right topical products and reading some supplemental materials which can also help. The "Be Active!" section of the site encourages those who visit to become involved somehow, whether it is participating in a contest or posting a video they have to share with everyone else.
There are multiple ways to get involved with the website and it even offers links to a Twitter and Facebook page where visitors will be able to go and see all the latest updates regarding the website itself. There are also a number of categories offered on the site for visitors to browse through, ranging from acne to ear zits and even a Halloween section. It is one of the more comprehensive zit sites on the internet today and offers visitors a lot in terms of interactive features which are able to bring people who go on it together for a common purpose. Its recent additions suggest that even more people will be joining and getting involved with the zit popping movement that is becoming so popular online.
Looking to pop? Go get em http://www.popthatzit.com
###