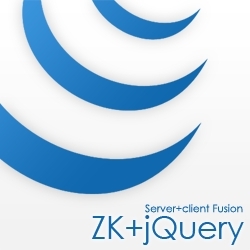 jQuery selectors for the server-side are just one of the features which makes ZK the most productive Ajax web framework today
(PRWEB) February 22, 2011
ZK, a leading end-to-end provider of open-source Java web development solutions, today announced the release of jQuery style selectors for its server-centric Ajax web framework ZK. ZK continues to drive technical innovation by delivering server-side jQuery and CSS 3 style selectors using Java annotations in addition to the industry leading Server+client Fusion architecture.
This unique server-side selector technology affords developers an incredibly easy and productive method of selecting and accessing server-side components. Using the technology makes implementation of patterns such as MVC and MVVM straightforward.
Core ZK Selector features include:

Use the selector technology using pure Java
Use Java annotations to automatically bind components to properties
Selectors apply jQuery & CSS 3 style
Enhanced MVC and MVVM usage
"Our focus is always on providing developers with the power and ease they crave. jQuery selectors for the server-side are just one of the features which makes ZK the most productive Ajax web framework today," said Tom Yeh, CEO of Potix.
ZK leveraged its extensive experience of Java technology to implement a server-side selector system which interfaces with an array of super-light, blazing fast UI components for Java Ajax web development. ZK provides developers with a true event-driven model facilitating simple and transparent development of rich internet applications using pure Java.
Selector documentation
Project homepage
Contacts:
Timothy Clare (UTC +0h00)
ZK Technology Evangelist
timothyclare(at)zkoss(dot)org
+44 (0)161 408 6678
About Potix:
Potix Corporation develops and supports ZK, the #1 server-side Ajax framework.
Innovation is the most driving force behind Potix. Potix delivers the first Ajax framework to support Java and Android phones, the first embeddable Ajax spreadsheet, and the first to synergize the power of pure Java, markup and scripting languages.
ZK has more than 1,500,000 downloads since its first release in late 2005. ZK is deployed in over one hundred Fortune Global 500 companies, including Deutsche Bank, Barclays, Sony, Swiss RE, Societe Generale, Lloyds TSB, Oracle, Bank of America and Toyota, providing them with the ability to rapidly create rich Ajax enterprise level applications.
# # #