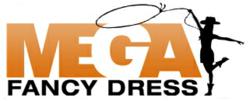 We are excited about our range of Officially Licensed Scream Fancy Dress Costumes, which we hope will be a great success, as they offer customers an iconic brand at good value for money."
(PRWEB UK) 27 July 2012
Halloween is a huge event around the world where people dress up as the un-dead, the occult and mythical monsters. Mega Fancy Dress has seen more people dressing up in Halloween costumes every year. The leading country for celebration is America – where making Halloween fancy dress costumes and decorating your whole house is the norm. Europe is not far behind, with more families wanting an excuse to have a good time; therefore, Halloween fancy dress parties are becoming big events worldwide.
There are plenty of traditional Halloween costume ideas to choose from: Witches, Devils, Pumpkins, Skeletons and more. This year though, Mega Fancy Dress is predicting that the zombie phenomenon will continue to be the hottest Halloween costumes that customers will choose. The zombie world is big news at the moment. In fact, it has been since way back in the 1980s when zombies crawled out of the grave in Michael Jackson's Thriller Video! Subsequently, films such as The Night of the Living Dead and Dawn of the Dead considered classics in the Horror film genre have inspired video game franchises, like Resident Evil, which have snowballed from the popularity. This has caused many people to choose the Zombie look for their Halloween fancy dress idea. In order to satisfy customer demand, fancy dress suppliers have been coming up with more and more exclusive and exciting zombie costume ideas each year. Now you can dress up as almost any zombie character you can think of including frightful Zombie Prom Queens and horrifying Zombie Surgeons.
At Mega Fancy Dress, there is bound to be something for everyone with a huge variety of zombie costumes on offer, ranging from cheerleader zombies to zombie pirates and even a new range of frightening fairytale themed zombie costumes, such as, Repulsive Rapunzel and Snow Fright. Zombie accessories available include a brand-new range of contact lenses, which will give you that classic horror white-out look of the living dead, and bloody make-up kits to help customers be inspired to look their most terrifying this Halloween.
Vampire fancy dress is still trending with the Twilight Saga transporting Vampires back into the spotlight. With a fantastic new range of Vampire costumes in stock, Mega Fancy Dress is ready to meet the people's demands. They also have a collection of deluxe accessories including brand-new Twilight Volturi contact lenses, so now you can easily look like Cairo, Marcus or Jane - the Villainous Volturi!
The Sales Director, Natasha Amin, said:
"Halloween is our busiest time and each year we stock more new ranges to meet our customers' needs. People want to look unique with costumes that have an extra dimension – be it a light-up dress or realistic blood and gore detailing. We are excited about our range of Officially Licensed Scream Fancy Dress Costumes, which we hope will be a great success, as they offer customers an iconic brand at good value for money."
Every year there is always one costume that exceeds expectations; last year it was the officially licensed ladies' Edward Scissor hands fancy dress costume that surprised the company. This year the Ladies' Beetlejuice fancy dress costume has been released as a follow-up, and is expected to be the next big thing for women this Halloween.
2012 is going to be the biggest and most exciting year yet for Mega Fancy Dress; and in truly terrifying style, they will be running exciting, spooky games and competitions on their website, Twitter and Facebook fan page. Now everyone who loves Halloween can join in the fun with Mega Fancy Dress in the weeks running up to the 2012 celebrations!
About Mega Fancy Dress
Mega Fancy Dress is a UK based company that provides Fancy Dress Costumes and accessories to online customers. Since 2006, Mega Fancy Dress has consistently offered the best quality fancy dress costumes at some of the most competitive prices on the market. Mega Fancy Dress is a Top 5 Google UK searched online fancy dress company.
Follow Mega Fancy Dress:
On Twitter: @ megafancydress
On Facebook: megafancydresscostumes
For more information visit http://www.megafancydress.co.uk or call +44 (0)845 634 4193