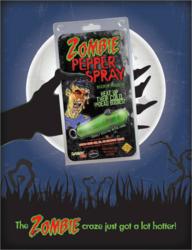 Preparation is key for any personal threat, be it zombie or human attacks
Fenton, MO (PRWEB) May 17, 2012
SABRE Pepper Spray consistently delivers on consumer safety needs. So, in response to the hype around a zombie apocalypse, SABRE recently introduced the first undead-themed defense spray. With the new Spitfire design, this spray not only caters to zombie-loving consumers, but it also serves as the most compact, fastest-deploying pepper spray on the market.
With the zombie hysteria online and on screen, many people are getting prepared for an invasion. SABRE's zombie spray makes a great gift for someone putting together a zombie survival kit. It's more portable than a shotgun, which most zombie propaganda recommends. It also sprays from a safe distance, providing an advantage over knives as well.
Zombies have seen a rise in fame recently, but the real threat is on the streets every day. "Preparation is key for any personal threat, be it zombie or human attacks," states Katy Alberti, Manager of SABRE Personal Safety Academy. "When you're ready for anything, then you set yourself up for survival." Alberti also points out that the probability of actual zombie attacks does not compare to the that of human on human attacks. That's why SABRE ensures that the zombie spray will be equally effective against living beings who may be determined to hurt an individual.
SABRE Spitfire offers several critical advantages against an attacker. First, SABRE pepper spray will cause involuntary eye closure from a safe distance of 8 feet for a chance to escape. Also, Spitfire is the smallest pepper spray on the market, which makes it easy and discrete to carry each day. Plus, the ergonomic canister deploys with a simple forward and down motion, delivering extremely quick protection. Most importantly, it deploys at any angle or orientation, so the user can spray from over the shoulder, the hip, or over the head.
For consumers interested in SABRE Zombie Pepper Spray or a variety of other SABRE pepper sprays, stun guns, and animal deterrent sprays, they can visit http://www.sabrered.com or email info(at)sabrered(dot)com. SABRE Zombie pepper spray is not to be used as a toy or in situations with no immediate physical threat to an individual.
"Making Grown Men Cry Since 1975", SABRE brand is manufactured in the USA by Security Equipment Corporation (SEC). SEC produces pepper spray, stun guns, and animal deterrent sprays for law enforcement and the general public. For 10+ years, SEC has trained the top law enforcement agencies in the world. In 2008, SEC established the Sabre Personal Safety Academy, which trains civilians how to prevent attacks as well as how to use pepper spray.