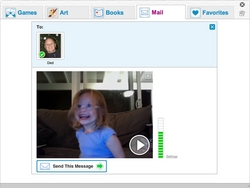 "My kids can watch Grandma's storybook recordings and Video Mail messages whenever they want, and send back messages on their own. We are excited to help kids connect with the adults they love and strengthen family bonds." - Mark Williamson, Zoodles CEO
Mountain View, CA (PRWEB) October 27, 2010
Today Zoodles launched innovative, free video features that close the gap between kids and family members far away. To date, Zoodles has focused on putting devices into "Kid Mode," which allows kids 8 and under to play and learn independently on any device. Now for the first time, Zoodles is enabling grandparents and other family members to easily record themselves reading storybooks online and swap video messages with kids, all within Zoodles' family-friendly experience that's easy enough for a 3-year-old. Click here for quick video demos of Zoodles Storybooks and Video Mail.
Kids and relatives do not need to be online at the same time to connect. After a storybook or video message is created, Zoodles securely delivers and saves it directly to the child's "playground" of games and activities where they can access it on their own. Kids can send back their own 30-second video messages with the touch of a button, and even create digital works of art for family members. Zoodles has made these new "Family Connect" features free to all users.
"For the very first time, we are giving kids the ability to communicate on their own with family members far away," said Mark Williamson, CEO and co-founder of Zoodles. "I've enjoyed watching my 2- and 6-year-old daughters independently exchange dozens of video mail messages with their grandparents and cousins in other states. We used to Skype with Grandma every Sunday, but scheduling a call or getting the girls to focus could be a challenge. Now, they can watch Grandma's storybook recordings and Video Mail messages whenever they want, and send back messages on their own. We are excited to help kids connect with the adults they love and strengthen family bonds."
Zoodles "Family Connect" features include:

"Video Mail" for Personalized Messages: Kids and adults can record and send quick video messages to each other through Zoodles. There is no typing required, so it's easy for even young kids to do! Grandma can create a special good night video for her little ones, and kids can show off their latest skills or school projects.
"Zoodles Storybooks" for Family Storytime: With one click, an adult can record themselves reading books from the Zoodles library, complete with full color illustrations and page-by-page text so children can read along. Current books in the Zoodles library include: Goldilocks and the Three Bears, Jack and the Beanstalk, The Princess and the Pea, Little Red Riding Hood and The Emperor's New Clothes. More classic books will be added in the coming weeks and months.
"Art Studio" for Creative Sharing: Creative play is vital for a child's development. The Zoodles Art Studio lets kids paint digital pieces of art, and add them to an online scrapbook. Through the Parent Dashboard, Mom or Dad can then print the paintings or share them via Facebook, Twitter or e-mail.
"My almost 3 year old daughter LOVES Zoodles Video Mail!" said Jessica Preston, a mother of four children ages 3 to 13 in Grafton, OH, "The funny thing is that when Grandma sends her Video Mail, she thinks she is having a conversation with her! She will replay it 10 times in a row repeating the same "conversation" with her over and over."
"When I opened Zoodles' Jack and the Beanstalk Storybook, my 3 year old grandson Lucas was charmed and loved every picture and every word," said Jeanelle Ray of Mansfield, TX. "He would want to go back and reread some of the pages and examine the pictures, and the artwork is great. He even learned that carrots grow in the ground from the story. I was practically in tears, I was so relieved to know that we've found a way for Lucas to learn to love books and reading."
Zoodles believes every child deserves access to a free and fun education, so the company has made Zoodles 100% free for kids to play. All of Zoodles' Family Connect features are also free. Zoodles Premium Members can archive their storybooks, video mail and pieces of art indefinitely, while free users will have storage for seven days.
Screenshots, Logos and Product Demo Video

Visit our press room for company logos, a reviewer's guide, screen shots and product demo videos
Find Zoodles Online:

About Zoodles
Zoodles is an award-winning set of free apps that puts computers, smartphones, and tablets into "Kid Mode". With Zoodles, kids 8 and under can play and learn independently on any device. Zoodles gives kids thousands of pre-screened, educational games, puzzles and videos, and lets them connect to family members far away. Zoodles is the first play experience to intelligently adapt to each child based on their age, skills, the device they are using and desired parental controls. Parents can shape the content, set play time limits, block unwanted games, set violence preferences and review their child's activities through detailed activity reports.
Zoodles was developed by a father of two and a team of software and education experts. The company is based in Mountain View, CA and backed by early stage investment firm Harrison Metal Capital. For more information visit http://www.zoodles.com.
###