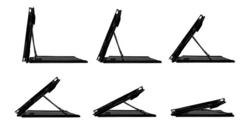 The Most Fully Funtional Case for the Motorola XOOM!
Laguna Hills, CA (PRWEB) May 12, 2011
Functionality is a much needed attribute when searching for the perfect case, and it's clear the ZooGue Case Genius offers that and much more. With the ingenious design, the case offers a fully-adjustable stand that is secure and stable. This allows their customer the ability to view their XOOM at absolutely any angle desired. When giving presentations, working in class with students and teachers, or just casually watching movies or reading a book, the ZooGue XOOM Case Genius will provide the exact angle needed for optimum viewing.
Even though the adjustable stand alone sets the ZooGue Case Genius apart from its competitors, ZooGue took it one step further by adding a strap that doubles as a secure hand strap or an adjustable headrest mount for the car. Providing access to all cameras and ports, once placed within the ZooGue Case Genius the XOOM never needs to be removed for charging, internet chatting or taking pictures. Every detail was considered when designing this remarkable case.
With the overwhelming response from their customers, the ZooGue XOOM Case Genius sold out of their first shipment in just a few short days. With the demand being so great for the multi-functional case, ZooGue has made every effort to provide the case in a timely manner. Currently the new ZooGue XOOM Case Genius is available for purchase at http://www.ZooGue.com.
ZooGue is inspired to continue to bring innovative products to their large base of customers who require nothing less than perfection. They are committed to making the best products and will continue to strive for excellence.
###