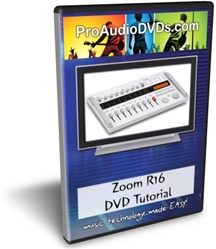 This DVD is a must have for any Zoom R16 owner.
Denver, CO (PRWEB) September 06, 2011
A new DVD created to assist musicians understand their Zoom R16 has been released by ProAudioDVDs.com, the leader in DVD tutorials for musicians and studio owners. Details of this Zoom R16 DVD can be found here.
This DVD is not only a review of all the feature and functions of the Zoom R16, it's also like an updated visual version of the owner's manual hosted by veteran trainer David Wills.
"I wanted to explain all of the cool things that the Zoom R16 can do, but also demonstrate a ton of features that aren't expanded on in the user manual." said David Wills, owner or ProAudioDVDs.com.
"The Zoom R16 has so many powerful features that most users are only using a small part of what the unit can do. In this DVD we go through everything."
"My goal is to make it like you have one on one time on all the features of the Zoom R16 and to quickly bring you up to speed on the entire unit. Why review the whole written user manual when you can get quick up-close visual training on specific subjects?"
Apart from being a high quality 16-track multitrack recorder the Zoom R24 is a world class interface. Its abilities to connect with a computer via USB to act as a control surface and I/O interface are all demonstrated on this DVD that is well over 2 hours long.
David Wills has written and produced over 50 training DVDs in the nearly 20 years since he launched ProAudioDVDs.com. As an Audio Engineer and Consultant for artists such as Michael Jackson, Phil Collins, Earth, Wind & Fire and Diana Ross, David brings real world experience from the pro world but in any easy going conversational style of presentation.
The DVD covers the following...
INTRODUCTION
Welcome
Features
Front Panel Overview
Connections
YOUR FIRST RECORDING
What is Multitracking?
Creating a Song
Assigning Inputs
Setting Levels
Recording to a Rhythm Guide
Recording an Acoustic Guitar
Overdubbing
Overdubbing a Bass Guitar
Overdubbing a Vocal
Playback and Mixing
Punch Ins
Perform a Punch
Using Insert Effects
Understanding Takes
Locate Points
Repeat Function
Bouncing
Undo
MIXING
Mixing Overiew
Mute function
EQ
Loop effect
Effect sends
Mixing down your Song
Mastering
USB FUNCTIONS
Connecting a Computer
Using as an I/O
Using as a Control Surface
Importing/Exporting Tracks
GRADUATION
Additional Screens/Functions
About ProAudioDVDs.com
Founded in 1992, ProAudioDVDs.com has produced over 50 training DVDs on the operation of music production equipment. Partnered with industry leaders such as Roland, Tascam, Korg & Zoom, it is celebrating nearly 20 years of being a market leader in product training resources for recording and live musicians.
###