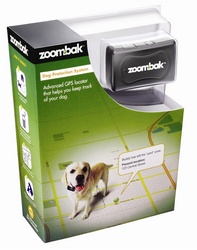 With Zoombak, we have created a powerful new tool to help keep dogs safe and are pleased to partner with Bark Buckle UP to promote pet safety, bringing added peace of mind to pet owners.
NEW YORK (PRWEB) March 20, 2008
Bark Buckle UP's pet safety program is traveling nationally to teach and promote pet safety in automobiles. Christina Selter, Bark Buckle UP's founder, is a recognized pet travel safety expert and a regular guest at international auto shows, pet industry events and has appeared in numerous TV and radio interviews. Supported by fire and police personnel, Bark Buckle UP is committed to saving pets' lives through safety education programs in and around automobiles.
"Bark Buckle UP's mission is to educate the public and all 'pet parents' about the importance of safely securing their pets when traveling. Vehicle seat belts have saved the lives of countless occupants and properly restraining our pets provides them with many of the same benefits: it protects them in case of collision, keeps them from distracting the driver, and prevents them from escaping the vehicle and becoming lost," said Christina Selter, founder of Bark Buckle UP. "I wish to thank Zoombak for its efforts to keep our pets safe with its advanced GPS dog locator and help spread the message about pet safety."
"We know that dogs are an integral part of millions of families and that is why Zoombak is committed to helping dog owners safeguard their beloved pet, whether on the road or at home," said Simon Buckingham, CEO of Zoombak. "With Zoombak, we have created a powerful new tool to help keep dogs safe and are pleased to partner with Bark Buckle UP to promote pet safety, bringing added peace of mind to pet owners."
Zoombak's Advanced Dog Locator harnesses the power of advanced GPS technology to help dog owners quickly locate and recover their missing pets. Featuring a compact design, easy-to-use interactive website and a real-time email/text message alert system that notifies a pet owner when dog leaves a user-defined "safety zone," Zoombak provides customers with a new level of security. Zoombak is available for purchase online at http://www.zoombak.com for $199 (plus a low monthly service fee starting at $9.99) and will be carried at PetSmart and other major national and regional retailers starting next month.
About Zoombak
Zoombak LLC, develops leading edge solutions that keep consumers connected to their families, pets and possessions. The company is led by a team of veteran executives with extensive wireless, sales and marketing, business development and operational expertise working together to put safety on the map. With offices in the United States and England, Zoombak is a privately held subsidiary of Liberty Media. Liberty Media Corporation owns interests in a broad range of electronic retailing, media, communications and entertainment businesses. Those interests are attributed to three tracking stock groups: the Liberty Interactive group, which includes Liberty's interests in QVC.com, Provide Commerce, Backcountry.com, BUYSEASONS, Bodybuilding.com, IAC/InterActiveCorp, and Expedia, the Liberty Entertainment Group, which includes Liberty's interests in the DIRECTV Group, Inc., Starz Entertainment, FUN Technologies, Inc., GSN, LLC, Wildblue Communications, Inc., and Liberty Sports Holdings LLC, and the Liberty Capital group, which includes all businesses, assets and liabilities not attributed to the Interactive Group or the Entertainment Group including our subsidiaries Starz Media, LLC, Atlanta National League Baseball Club, Inc., and TruePosition, Inc., and minority equity investments in Time Warner Inc. and Sprint Nextel Corporation. For more information, please see http://www.libertymedia.com.