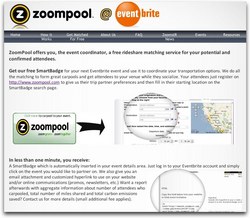 Events are a great candidate for ridesharing because attendees generally aim to arrive and leave at roughly the same time
Santa Cruz, CA (PRWEB) September 24, 2009
ZoomPool (zoompool.com), the rideshare matching service that aims to make it convenient, rewarding and safe to carpool, has teamed with Eventbrite to make it easy for event organizers to offer rideshare options for event attendees. With gas prices again on the rise, and parking options limited at many urban events, sharing a ride is an increasingly attractive solution for event-goers. But some people hesitate to rideshare, fearing logistical hassles and the possibility that they might not click with their rideshare companion. ZoomPool completely automates rideshare matching and pairs compatible individuals, making it an ideal carpool solution for people who already share a common interest -- the event itself.
"Events are a great candidate for ridesharing because attendees generally aim to arrive and leave at roughly the same time," said Donna Horne, ZoomPool's co-founder. "If you're an event organizer who uses Eventbrite for your conference, business seminar, arts, entertainment or charity event, it makes perfect sense to offer ridesharing to your attendees. It boosts attendance and they'll love you for it. As an event attendee, ridesharing with a perfectly matched partner is a great opportunity to make a new social or business acquaintance -- who knows where that might lead?"
"We love ZoomPool's focus on compatibility and safety, and their environmental goals are totally in alignment with ours," said Jack Mardack, director of marketing at EventBrite. "The ZoomPool team have done a great job connecting their web app with ours; event details are pre-loaded into the ZoomPool rideshare request, making it extremely easy for Eventbrite customers to add ZoomPool to their events."
An official Eventbrite API partner, ZoomPool ridesharing is now available to all existing and new Eventbrite customers. For more information, see: http://www.zoompool.com/eventbrite.
How ZoomPool works
ZoomPool matches drivers and riders according to members' travel needs and their personal preferences for the type of people with whom they'd like to share a ride. ZoomPool is the only rideshare matching service that requires its premium level members to pass a routine background check (much the same as that used by landlords to vet renters), and that lets all its members score each other (in a manner similar to that perfected by eBay) and recommend other members they know.
ZoomPoolers specify their ideal rideshare partner by gender, chattiness, radio content (music or news), smoker/non-smoker, and more. Awkward discussions about driving costs are also avoided because, before each ride, ZoomPool calculates fair cost sharing and processes the transaction between rider and driver as soon as a trip takes place. No money needs to be exchanged at the time of the trip. ZoomPoolers travel safely and enjoy the ride, knowing they are saving on gas and parking, and helping the environment and their community by taking a car off the road.
Useful links
Become a ZoomPool member: zoompool.com
ZoomPool blog: blog.zoompool.com/
ZoomPool on Facebook: facebook.com/pages/Santa-Cruz-CA/ZoomPool/98124010350
ZoomPool on LinkedIn: linkedin.com/groups?gid=1951942
Follow ZoomPool on Twitter: @zoompool
About Eventbrite
Eventbrite is an online events marketplace where tens of thousands of individuals, businesses and organizations of all sizes manage, promote and sell out their events. With over eight million registrations to date and over ten thousand new events published every month, Eventbrite is bringing explosive growth to the events industry by making it easy for anyone to host a successful event. With a suite of free and easy-to-use online tools, Eventbrite empowers event organizers with everything they need to create a professional online presence and to effectively promote their events on the Web. Eventbrite collects a fee only if you sell tickets, and free events are totally free. As the World's Marketplace for Events, Eventbrite proudly serves event organizers from almost every industry, as well as thousands of non-profits, universities, libraries and faith-based organizations from all over the world. The company is headquartered in San Francisco, CA and additional information is available at http://www.eventbrite.com.
About ZoomPool
ZoomPool redefines ridesharing by facilitating practical carpooling for people going to the same destination. We make sharing a car safer and easier by offering certified members rideshare matches with other certified members who have a clean record. With ZoomPool, you save money, time and parking hassles, decrease your personal carbon footprint, and meet new friends. Let ZoomPool's matching system suggest good trip partners and then you decide which person is best for you by reviewing their feedback rating and comments, social profile links, and recommendations from other trusted members. Zoom Green, Zoom Together, ZoomPool! http://www.zoompool.com
###