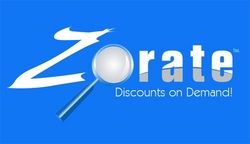 "We're instant, green, and a bright light in today's dark economy," says Founder & Creator, Moses Kusasira.
Las Vegas (PRWEB) February 14, 2011
Zorate LLC, the only word in Discounts on Demand, today launched Zorate.com, an online mini-suite of easy to use, easy to navigate, and best of all, easy to dispense-and-redeem coupons, backed by the power of GPS and Facebook's 500 million-member community.
Through Zorate's unique share-and-redeem program, Facebook account holders can instantly cash in on discounts at face value or, with the simple click of a button, share the deal on their Facebook wall and get increased savings.
"We're instant, green, and a bright light in today's dark economy," says Founder & Creator, Moses Kusasira. "With unending possibilities, enterprise, local small to mid-sized businesses, and patrons can access the power of social media to take their business – and their savings – to a new level, both in terms of marketing and discounting. These aren't your mama's coupons. She scoured the Sunday paper, hoping to find a coupon she could use, only to wind up cutting one out for something she didn't need. Those days are over."
Consumers benefit from Zorate's perpetual, instant, on-demand savings for the discounts they want, when they want them. Zorate purchasers – or Zooters, for those in the know – have the power to request concessions from restaurants, spas, and every business-type in between in specific geographic areas. Zooters can then show up with the discount on their phone; being scissor-free, there's no need to track down a printer when you Zoot a live deal.
On the flip-side, companies can cut out the middle-man by negotiating directly with the consumer, saving everyone time and money. With offers that last more than one day, the sky's the limit for the number and variety of discounts a business can broadcast. From the vanilla-flavored "15% off" to "F-share with your friends and get 40% off your purchase" to sending a personalized discount to their favorite, frequent customers, Zorate-friendly businesses are able to maximize their advertising dollars by specifically targeting discount-minded consumers.
The Mobile Module
Unique to Zorate is the zTracker, a GPS feature that allows sushi-yearning, tire-flattened, or show ticket-deprived customers to find discounts within a select radius. Much like the "search nearby" feature inherent to online mapping sites, the zTracker module allows users to move around different regions, cities, and neighborhoods with their iPhone and find deals. Based on one's preferred categories and preferred distance, a special zBra buzz notifies the user when discounts are within reach. This same functionality will be available to other smart phone platforms within a few months.
About Zorate
Established in 2008 in Las Vegas and Chicago and empowered by the growing awareness of social media clout, Zorate is an online community that makes it possible for individuals and businesses to connect, offer, and save, all with a few clicks of a button. Zorate is expanding to other American cities in the immediate future. These cats are taking on the big dogs and teaching them new tricks in discounts on demand.
# # #