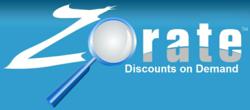 I am really excited to be taking Zorate to the next level.
Las Vegas, NV (PRWEB) July 25, 2011
Zorate, LLC, the first online voucher company to take on instant couponing, has unveiled their iPhone application, "zApp," bringing Discounts on Demand™ to mobile users who are out on the town looking for deals.
The easy to use zApp allows consumers to demand discounts from local businesses and share those deals with Facebook friends. Businesses can alert those same consumers about special coupons, discounts, or deals they are running when one is within a certain mile radius of those businesses.
"I am really excited to be taking Zorate to the next level," says Founder & Creator, Moses Kusasira. "We're incorporating GPS technologies with every shopping and dining experience, and soon we'll be interfaced with Point of Sale (POS) systems. With zApp, the sky is the limit for anyone to save anywhere, anytime!"
Features of the iPhone app include:

zTracker – Turns the iPhone into a personal shopping assistant that knows the shopper's needs, then lets the deals find the shopper. By selecting the category and mile range, zTracker finds the deals that matter to the consumer when they are nearby.
Zooting – Consumers can communicate directly to businesses the discounts they want, when they want them.
zSearch – Searches for discounts in a city, then displays them for easy browsing.
zCalendar – Found a deal and can't use it right away? Store it in your zCalendar to use at a later date.
Check In – Directly connected to Facebook, the Check In feature shows friends where the hot deals are.
Redeem & Share – By simply sharing the discount on one's Facebook page, customers are able to realize greater savings. There is no need for three friends to take advantage of the discount – the increased savings are effective immediately, the moment it is shared.
Las Vegas, the target city for this initial launch, will be the site of a special launch party on August 2nd at the stunning Blue Martini Bar in Town Square. Other cities across America will be coming online soon.
About Zorate
Established in 2008 in Las Vegas and Chicago and empowered by the growing awareness of social media clout, Zorate is an online community that makes it possible for individuals and businesses to connect, offer, and save, all with a few clicks of a button. Zorate will be extending their freedom-loving offerings to other American cities in the immediate future.
CONTACT:
Roxann Monet
(808) 393-9197
PR(at)zorate(dot)com
http://www.zorate.com
# # #