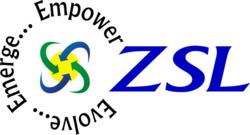 For 23 years, the InformationWeek 500 has chronicled and honored the most innovative users of business technology
Edison, NJ (PRWEB) September 19, 2011
ZSL, the global systems integrator and business solutions provider headquartered at Edison, NJ, announced that it made this year's InformationWeek 500, an annual listing of the nation's most innovative users of business technology. This is the second consecutive year for ZSL to break onto this prestigious list. The 2011 list was revealed at a gala awards ceremony at the exclusive InformationWeek 500 Conference that took place at the St. Regis Monarch Beach Resort, Dana Point, CA.
"We are greatly honored", says Shiv Kumar, executive vice president, ZSL. "The second year in row recognition in the Top 250 Innovator category reiterates the success in our business aligned innovation and continued commitment to the value added R&D to offer best of breed products and services to our clients worldwide" said Mr.Kumar.
ZSL was recognized for its initiatives to innovate and deliver business aligned technology solutions leveraging the best of breed Cloud, Virtualization, Enterprise Social Media, Business Analytics & Mobile technology platforms to drive effective internal and external collaboration, collective intelligence and sustainable eco-friendly computing models.
"For 23 years, the InformationWeek 500 has chronicled and honored the most innovative users of business technology," said InformationWeek Editor In Chief Rob Preston. "In this day and age, however, being innovative isn't enough. Companies and their IT organizations need to innovate faster than ever before to stay a step or two ahead of their customers, partners, and competitors. This year's ranking placed special emphasis on those high-octane business technology innovators."
InformationWeek identifies and honors the nation's most innovative users of information technology with its annual 500 listing and also tracks the technology, strategies, investments and administrative practices of America's best-known companies. Top winners have included: The Vanguard Group, CME Group, Conway, National Semiconductor, Kimberly-Clark, Hilton Hotels and Unum. The InformationWeek 500 rankings are unique among corporate rankings as it spotlights the power of innovation in information technology, rather than simply identifying the biggest IT spenders.
Additional details on the InformationWeek 500 can be found online at http://www.informationweek.com/iw500/.
About ZSL
Zylog Systems Ltd (ZSL) is a Global Systems Integrator & Business Solutions Provider based in Edison, NJ with more than 4000 employees worldwide focused in developing and delivering enterprise IT solutions and services using the emerging technology platforms to keep the TCO low and ROI high. ZSL is a pioneer in providing business aligned technology solutions to enable the growth and make the enterprises responsive and agile. ZSL's Technology Leadership and value added R&D helped the enterprises globally to achieve their business goals cost effectively. To learn more about ZSL and its solution offerings, please visit http://www.zslinc.com.
About InformationWeek Business Technology Network (http://www.informationweek.com/)
The InformationWeek Business Technology Network provides IT executives with unique analysis and tools that parallel their work flow—from defining and framing objectives through to the evaluation and recommendation of solutions. Anchored by InformationWeek, the multimedia powerhouse that looks across the enterprise, the network scales across the most critical technology categories with online properties like DarkReading.com (security), NetworkComputing.com (networking and communications) and PlugintotheCloud.com (cloud computing). The network also provides focused content for key IT targets, such as CIOs, developers, and SMBs via InformationWeek Global CIO, Dr. Dobb's and InformationWeek SMB, as well as vital vertical industries with InformationWeek Financial Services, Government, and Healthcare resources. Content is at the nucleus of our information distribution strategy—IT professionals turn to our experts and communities to stay informed, get advice and research technologies to make strategic business decisions.
###