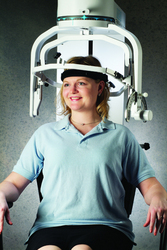 We've had patients come into our office with the belief that as a result of their accident, their pain is life-long and permanent, but it's exactly the opposite
Dallas, TX (PRWEB) April 21, 2009
Z Therapy Whiplash Treatment Center now offers a ground-breaking treatment option for victims of whiplash associated disorders (WAD). With the introduction of a multi-cervical unit (MCU) by BTE Technologies, Z Therapy is the first and only rehabilitation specialist in North Texas to offer this technology that is designed to quickly alleviate neck pain.
Often overlooked through common tests such as CT scans, MRIs and x-rays, WAD affects soft muscle tissues in the neck. Measuring neck strength, flexibility and range of motion, the MCU can provide a statistical evaluation of the neck compared to normal results.
Targeting the source of neck pains, physical therapists like Brett Parish at Z Therapy, who is also a specialist on the MCU, can plot a personalized recovery plan that focuses on strengthening weak muscles and ultimately alleviating pain caused by strained tissue. While results vary, patients can begin to feel a difference in as little as a few weeks.
If not treated within the first 72 hours of injury, the pain can only worsen and extend treatment times and post future complications. That is why Z Therapy urges WAD victims to seek treatment immediately following injury.
"We've had patients come into our office with the belief that as a result of their accident, their pain is life-long and permanent, but it's exactly the opposite," said Zach Tallon, president of Z Therapy. "The MCU provides incredible results and instills hope for those who have lived with chronic neck pains."
Statistics show that more than 200,000 Texans are injured in an auto accident each year, causing medical and productivity costs to rise at an astronomical rate. Whether it's from an auto accident, fall or sports injury, WAD can make everyday tasks unbearable.
"Many patients spend thousands of dollars on traditional therapies alone with only temporary relief," Tallon said. "The MCU is a revolutionary step forward in the diagnosis and treatment of whiplash. It allows us to more accurately diagnose and treat each patient with long-term results."
For more information on the MCU and other treatment options for whiplash associated disorders, contact Z Therapy Whiplash Treatment Center at 214-361-8700 or by visiting Z Therapy Whiplash Treatment Center.
About Z Therapy Whiplash Treatment Center:
Z Therapy Whiplash Treatment Center offers advanced treatment options to victims of whiplash and chronic neck and back pains. With proven, targeted results, patients can regain strength and return to daily activities. Services include rehabilitation, physical and specialized massage therapy. Payments are accepted through automobile and health insurance, which can cover up to 100 percent of treatment. For more information, please call 214-361-8700 or by visiting Z Therapy Whiplash Treatment Center.
###