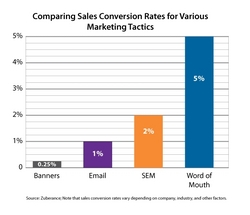 "Zuberance is enabling companies to go beyond listening and engaging customers on the social web to driving measurable leads and sales," said Ritter.
San Carlos, Calif. (PRWEB) October 26, 2010
Zuberance, provider of an award-winning Word of Mouth marketing platform that energizes Brand Advocates, announced today it has received $8 million in Series B funding led by Canaan Partners. Existing investor Emergence Capital Partners and Correlation Ventures also participated in the round.
Zuberance will use the proceeds of its Series B financing to accelerate its growth, further enhance product innovation, and expand sales and marketing. "Zuberance is creating and leading the brand advocacy category," said Rob Fuggetta, Zuberance Founder and CEO. "This funding will enable Zuberance to leverage our first mover advantage and enable more brands to harness the marketing power of their Brand Advocates," Fuggetta said.
Energizing Brand Advocates
Brand Advocates are consumers and business buyers who frequently recommend brands and products without being paid to do so. Brand Advocates' trusted recommendations directly influence billions of dollars of purchase decisions for everything from cars to computers, hotels, restaurants, movies, and more. There are over 50 million Brand Advocates in the U.S., a valuable, highly influential, and yet under-utilized marketing weapon for companies.
The Zuberance Advocate Platform enables companies to identify and energize their Brand Advocates at scale to create and publish positive ratings and reviews, stories, and answers on Facebook, Twitter, Amazon.com, TripAdvisor, Yelp, brand websites, and elsewhere plus share promotional offers with their social networks. Integrated analytics enable marketers to track effectiveness of Brand Advocate programs in real-time plus get unique, actionable insights about Brand Advocates.
10X Return on Advocacy
Companies using the Zuberance platform are getting a 10X Return on Advocacy as measured by qualified leads, traffic, sales, and influence impressions. Conversion rates from Zuberance-powered Word of Mouth/Brand Advocate marketing are 5X to 10X higher than paid search, online advertising, and email marketing, an analysis of Zuberance-powered programs shows.
Major Restaurant Chain Energizes its Brand Advocates
A major restaurant chain is using the Zuberance Advocate Platform to energize hundreds of thousands of its Advocates. In only six months, the restaurant's Brand Advocates have:

Created over 75,000 reviews and published over 40,000 of them to Yelp, Facebook, and Twitter, reaching millions of diners with positive recommendations. The average star ratings of these reviews are 4.5 out of 5.0 stars.
Shared over 110,000 promotional offers with their social networks, driving 50,000 email club sign-ups, foot traffic, and sales
Generated approximately 25.5 million influence impressions, which convert at 5X to 10X higher rate than paid media
"Zuberance has succeeded in creating a technology platform that helps brands harness and encourage Word of Mouth, turning their most enthusiastic customers and others into Brand Advocates who directly impact sales among their social networks," said Deepak Kamra, General Partner, Canaan Partners. Kamra has joined Zuberance's Board of Directors.
"Zuberance is hitting the absolute fulcrum of the social media space in identifying and energizing Brand Advocates at scale for enterprises," said Gordon Ritter, General Partner at Emergence Capital Partners and a Zuberance Board member. "Zuberance is enabling companies to go beyond listening and engaging customers on the social web to driving measurable leads and sales," said Ritter.
About Zuberance
Zuberance is the leading Brand Advocacy company. The award-winning Zuberance Advocate Platform is a hosted Word of Mouth solution that enables companies to identify and energize Brand Advocates at scale, driving measurable increases in qualified leads, sales, and advocacy. Zuberance customers include leading consumer and business brands worldwide. Headquartered in San Carlos, CA, Zuberance is backed by leading investors including Emergence Capital Partners, Canaan Partners, and Correlation Ventures. Zuberance is a proud member of the Word of Mouth Marketing Association (WOMMA). Information about Zuberance can be found at http://www.zuberance.com. Follow @Zuberance on Twitter.
About Canaan Partners
Canaan Partners invests in visionary entrepreneurs and provides them the networks, insights and operational guidance required to build high-performance technology and healthcare companies. Founded in 1987, the firm has raised eight funds and completed more than 78 acquisitions and 53 IPOs. With $3 billion under management and a worldwide footprint, the firm is committed to catalyzing the growth of innovative digital media, communications & mobility, enterprise and clean tech companies. Among its successes are Associated Content, the people's media company; VOIP equipment supplier Acme Packet; CommerceOne, the company that pioneered B2B ecommerce; DoubleClick, the leading online advertising solution; Match.com, the most popular online dating site in the world; and SuccessFactors, the global leader in on-demand performance and talent management solutions. Other Canaan investments include 3Crowd, Active Networks, blip.tv, Blurb, iYogi, KABAM, Lending Club, ON24, OpenSky, Prime Sense, SOASTA, Tremor Media, TweetPhoto and Zoosk. Canaan maintains a presence in California, Connecticut, India and Israel. For more information visit http://www.canaan.com.
About Emergence Capital Partners
Emergence Capital Partners is the leading venture capital firm focused on cloud-based business and consumer services companies. In 2002, Emergence Capital was the first to recognize the power and potential of SaaS to disrupt the technology industry and invested in some of the most successful companies including Salesforce.com and SuccessFactors. Their mission is to help build market-leading companies in true partnership with forward thinking entrepreneurs. Today the firm has over $325 million under management from premiere institutional investors. For more information, visit http://www.emcap.com.
About Correlation Ventures
Correlation Ventures leverages world-class analytics to offer entrepreneurs and other venture capitalists a dramatically better option when they are seeking additional capital to complete a financing round. The firm makes investment decisions in two weeks or less and offers reliability and transparency about reserves and its intentions to follow in future financings. Correlation Ventures invests across all industry segments, U.S. geographies and investment stages—from seed through late stage. Correlation Ventures has offices in San Diego and Palo Alto, California. For more information, visit http://www.correlationvc.com.
Fast Facts about Zuberance
Industry/Vertical: Word of Mouth/Social Marketing
Position: Leading Brand Advocacy company
Product: Hosted Word of Mouth Marketing Platform focused on Brand Advocates
Headquarters: San Carlos, CA
Incorporated: Feb. 2007
Series A Funding: $4 million, Nov 2008, Emergence Capital Partners
Series B Funding: $8 million, Oct. 2010, Canaan Partners, Emergence Capital Partners, Correlation Ventures
Employees: 30
Customers: Leading consumers and business brands
Fast Facts about the Brand Advocate Segment
Size: 50 million Brand Advocates in the U.S and 1 billion+ worldwide; on average, 40% of companies' customers are highly likely to recommend them
Influence: Brand Advocates are 5X more trusted and influential than marketers and bloggers; 2/3 of US economy is influenced by Word of Mouth
Reach: 500 billion Word of Mouth impressions on the social web each year in the U.S., rivaling advertising
Value: Brand Advocates are 5X more valuable than average customers because they spend more and drive sales via their recommendations
Sources: Comscore, Yahoo!, Deloitte, McKinsey, Forrester, Zuberance
###