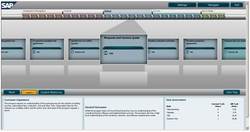 We are excited by the potential of Zui to make a massive, tangible difference to the day to day working lives of millions of SAP users around the world.
(PRWEB) July 5, 2008
Zui Ltd., the new joint venture between Tangent Communications PLC and De Villiers Walton Ltd, is at the forefront of user interface (UI) design with one massive point of difference - Zui makes new interfaces for SAP.
Drawing data live from applications such as ERP and CRM, Zui's revolutionary interfaces radically increase productivity by bringing together multiple screens and tools on a single screen, adapted for individual organisations or departments. They also look beautiful.
ZUI's interfaces and applications provide new functionality whilst enhancing usability and user compliance. All the applications can work in a standard web browser, enabling mobile applications and cross-platform installations to be achieved, potentially at no extra cost.
Zui Ltd launches June 2008. Jie Zhao, the head of De Villiers Walton SAP NetWeaver Division, has been appointed Chief Executive Officer.
The new company will focus on developing business solutions and application development services on the SAP platform utilising cutting edge user interface technologies such as Adobe Flex, Flash and dynamic HTML etc.
Zui's core offering is off the shelf SAP add-on products development utilizing innovative UI technology and SAP backend business logic and data. This core offering is supported by bespoke application development and support services. For more information, please visit Zui's products and services page: http://www.zui.co.uk/products_and_services. The below are screen samples of two of our applications developed for SAP - CRM Account Planning Tool and CRM TCE Navigator.
Commenting on the agreement, Timothy Green, Joint CEO of Tangent Communications PLC, said, "Having worked on a number of ground breaking CRM based applications with cutting edge UI technologies for SAP AG, Zui is the exciting next step to combine both companies' unique expertises and skills to take the technologies and applications developed to the wide SAP market where the potential is tremendous. We offer a bespoke solution to corporate twinning our consultancy service with a ground breaking approach to design and interactivity reflective of web 2.0"
Darron Walton co founder and Managing Director of De Villiers Walton, said, "We are excited by the potential of Zui to make a massive, tangible difference to the day to day working lives of millions of SAP users around the world."
The new company will be owned 50 per cent by Tangent Communications PLC and 50 per cent by De Villiers Walton Ltd. At first, the company will establish business in London.
About Tangent Communications PLC
Tangent Communications PLC is listed on the London Stock Exchange. It has a 20 year continuous trading history, and its largest shareholder is Michael Green, the founder and former Chairman of Carlton. It employs over 200 people, and has offices in London, Cheltenham and Newcastle.
About De Villiers Walton Ltd
De Villiers Walton Limited (DVW) is a specialist SAP software implementation services company operating in Europe, the Middle East and North America. For the past 5 years DVW has designed, built and implemented solutions based on SAP technology for a diverse range of customers including SAP AG, Kimberly-Clark, Brakes, De Beers, SAVVIS and Varian Inc.
###