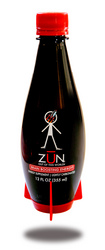 ZŪN is selling fast and selling out within just days of placing
Boulder, CO (PRWEB) March 30, 2010
ZUN, a pioneer in the Energy-Plus beverage category continues its national rollout adding stores in 11 Midwest states. Known for first to market with brain boosting energy - and packaged in the world's first patent protected retro-style rocket bottle, ZUN has quickly become a big hit in the energy category for retailers and convenience stores nationwide.
"Stores are reporting that ZUN is selling fast and selling out within just days of placing," said Brian Stearns, founder and CEO of ZUN. "The ZUN brand is quickly gaining favor with consumers due to the eye catching packaging and new taste. It's clear that people are looking for something new and exciting and ZUN stands out as a winner."
Consumers can now find ZUN in 11 states (CO, WY, NE, MT, ND, SD, IA, MO, AR, OK, MN). With the Midwest rollout nearly complete, ZUN's numbers are impressive with reports of product generating instant market acceptance.
Lightly carbonated and made with a proprietary blend of vitamins and nutraceuticals, ZUN ingredients include Natural Sugar, Caffeine, Coenzyme Q10, Choline, Taurine, 500 percent daily value of Vitamin B12, and an Antioxidant Formula of 100 percent daily value of Vitamins B6, E and C. There's no vitamin aftertaste and the brand is proving sustained sales based on its - incredibly refreshing® taste and function. BEVNET said ZUN "is one of the better tasting energy drinks that we've had in a while," and gave ZUN top ratings.
"ZUN has seen unprecedented market acceptance in its home region with incredible velocity, outselling local and national brands," says Richard Ginther, category manager at Kum & Go. "Kum & Go prides ourselves on finding innovative, exciting brands for our consumers, so we are very pleased with ZUN's results."
Cheryl Witt, a Denver based 7-Eleven owner recently confirmed with Beverage Business Insights that ZUN is steadily outselling key energy sku's. "It's doing really well and reaching everybody - kids, high school, college, adults- with strong, steady sales since we brought it in last fall. I'm surprised at the wide range of demographics and very pleased. I am glad to have something new and different."
About ZUN
ZUN, pronounced "ZUNE", is an Energy-Plus beverage that delivers instant and sustainable energy with added nutraceuticals for improved memory and focus. With a proprietary formulation, ZUN is the first-to-market with Brain Boosting Energy delivered in the world's first patented rocket bottle engineered for carbonation. ZUN®, Out of this World®, Incredibly Refreshing® and Brain Boosting Energy® are registered Trademarks. For more information, please visit http://www.zunenergy.com.
###