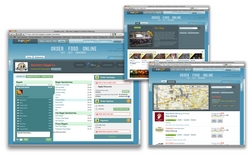 We are extremely excited to offer consumers what we think is the fastest and easiest way to order food online from an extensive variety of local restaurants
Philadelphia, PA (PRWEB) September 17, 2009
Zuppler announced today the availability of Zuppler.com, a new online food ordering website serving the Philadelphia area.
About Zuppler.com:
Zuppler.com offers restaurants a new way to generate orders for takeout and delivery from consumers and local businesses. The foundation of Zuppler.com is the powerful online ordering engine that makes is extremely easy for restaurateurs to enable their menu for online ordering, and for patrons to quickly and easily place orders for pickup or delivery.
With over 80 restaurants in the Philadelphia area, including King of Prussia, Conshohocken, Royersford, Malvern, Phoenixville, Trooper, and Norristown, Zuppler is the top destination for online ordering in the Philadelphia suburbs.
"We are extremely excited to offer consumers what we think is the fastest and easiest way to order food online from an extensive variety of local restaurants," said Shiva Srinivasan, President & CEO Zuppler.
Extensive Restaurant Capabilities:
In addition to online ordering from Zuppler.com, Zuppler offers its restaurant partners many additional capabilities, including:

Profile page featuring unlimited pictures of the restaurant, detailed listing of specials, and hours of operation
Integrated mapping using Google maps so patrons can easily get directions from their location
Individual website address so restaurants without a website can use their Zuppler account as their new website address
Management controls that make it easy for restaurants to offer specials or deals that are customized to bring in new business on non-peak days
Ordering syndication which allows restaurants to easily display their online ordering capability directly on their own website
Enable Online Ordering for restaurants without the need of a computer or internet at the restaurant facility
Backend fulfillment and live customer service that ensures each order that is placed will be fulfilled correctly, and on time.
Zuppler Community:
As part of the launch of Zuppler.com, Zuppler is offering consumers significant incentives to order online, including:

Direct discounts for ordering online, including discounts with some restaurants up to 20%.
A free meal: each day, one lucky person will be selected to receive a free meal, provided by Zuppler.com
1% cash back to organizations or individuals who are able to subscribe at least 20 new Zuppler members to order online through their Zuppler Community.
Zuppler is currently adding more restaurants in the Philadelphia area. Interested restaurants should visit the Zuppler website and register their restaurant.
About Zuppler:
Zuppler is the fastest and easiest way to order online. With powerful software and responsive customer service, Zuppler makes it easy for restaurants to take orders online without any programming or software development. Zuppler also offers restaurant portals such as Yelp or Urban Spoon the ability to order-enable the menus of their many restaurant partners. To learn more, visit Zuppler online at http://zuppler.com.
Follow Zuppler on twitter at http://twitter.com/Zuppler .
Zuppler already operates in India as aPlaceToDine.com with over 2000 partnered restaurants. Launched in 2007, aPlaceToDine is now the leading restaurant portal in India providing restaurants both online ordering and table reservation services.
###