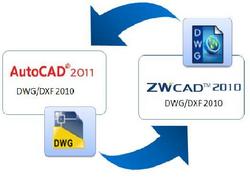 Perhaps the biggest opportunity for our resellers and affiliates is letting their customers with old, unsupported CAD seats know that they can modernize their CAD with ZWCAD for about one fifth the price of AutoCAD. For many, this will be a no-brainer
Boston, MA (PRWEB) July 20, 2010
Global Force DIRECT's ZwcadUSA.com, the exclusive Master Distributor for ZWCAD products in North America today issued a call for Resellers and Affiliates to join and expand its lucrative partner program to exploit the huge market opportunity for Autocad Alternatives in North America.
Kanti Purohit, CEO of Global Force DIRECT and ZwcadUSA.com, comments, "Over the years, Autodesk® has enormously grown the installed based of its CAD software in North America to more than 3 million users. With the secular shift towards value-based alternatives, most recently forced upon them by the Great Recession, CAD organizations wanting to modernize and augment their CAD installations are looking for value – lower cost without compromising reliability and functionality."
Purohit continues, "The mainstream users among the Autocad installed base simply want their projects done - and done it right - rather than play with the latest bells and whistles. This group of users is also very price-sensitive and is "itching" to find a much lower-cost alternative. ZWCAD is that perfect alternative - it provides the closest Autocad user experience - and, thus offers our partner resellers and affiliates a huge and immediate market opportunity."
Purohit adds, "Perhaps the biggest opportunity for our resellers and affiliates is letting their customers, prospects, and colleagues with old, unsupported CAD seats know that they can modernize their CAD with ZWCAD for about one fifth the price of AutoCAD. For many, this will be a no-brainer"
ZWCAD is a powerful AutoCAD Alternative for 2D and 3D CAD software with native DWG format. ZWCAD 2010 assures unrivaled compatibility with AutoCAD® & Windows® Operating Systems: ZWCAD 2010 supports Autocad 2010, Autocad 2011, and DWG 2010 formats and works in both Window® 7's 32- bit and 64-bit environments. For more information, visit Top 10 Reasons to Buy ZWCAD.
ZWCAD target market includes CAD users in mechanical, manufacturing, plant, architecture, engineering, construction (AEC), civil, water, GIS, and landscape architecture.
Existing resellers of higher-priced CAD products such as Solidworks®, PTC 's Pro/ENGINEER®, and SolidEdge® - and of course Autocad®, can give their business an immediate boost by adding new revenue stream from reselling ZWCAD - a much lower-cost full-function 2D CAD complement - into their installed base. To learn more, please visit Become ZWCAD Reseller.
Likewise, professionals with existing CAD roles as users, consultants, trainers, app developers, purchasing managers and agents, CAD user group members and officers, CAD newsletter and blog editors can supplement their incomes by becoming ZWCAD affiliates. To learn more, please visit Become ZWCAD Affiliate.
Purohit concludes, "I believe there is a sizable community of articulate, experienced CAD professionals who want to see and encourage fundamentally lower prices for full-function 2D 3D CAD. With this affiliate program, these pros and their organizations can not only use ZWCAD, but also receive a handsome reward for sharing the good news. And those they help, in turn, receive a handsome discount. It's a simple, compelling, modern win-win."
Becoming an affiliated is easy. There are no sales quotas to meet and there is no minimum time commitment required since most will have their existing CAD roles.
Simply pass on your assigned affiliate code by whatever medium – email, phone, blog, newsletter, website, or at user group meetings. When anyone buys ZWCAD using your affiliate code, they benefit by getting an immediate discount and you get a percent of total sale as a cash reward.
Additional Resources
To demonstrate how easy it is to transition from Autocad, ZwcadUSA offers a FREE 30-day trial of full-function ZWCAD software.
To learn more about ZWCAD and to explore ZWCAD reseller and affiliate opportunities, visit http://www.ZwcadUSA.com or call +1 508-70-ZWCAD (+1 508-709-9223).
Join the Autocad Alternatives conversation on LinkedIn; Connect with us on Facebook and Twitter.
About Global Force DIRECT
Global Force DIRECT is a global sales organization that specializes in sales 2.0. It is staffed by world-class, senior sales professionals who are web-empowered and phone-productive the entire day, and led by management that grew and managed a $100M phone/web-based sales operation for a $400M global software leader. Global Force DIRECT can bring transformational rewards to clients, including expanding revenue and reach, opening new global markets, and fundamentally increasing the efficiency of distribution. For more information, visit http://www.GlobalForceDIRECT.com.
###