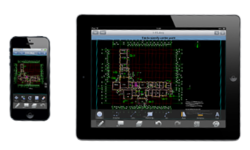 Keep in touch on the go with ZWCAD Touch anytime, anywhere. That is the power and the call-to-action of ZWCAD Touch
Boston, MA (PRWEB) April 30, 2013
ZwcadUSA, the exclusive Master Distributor for ZWCAD in North America today announced the release of ZWCAD Touch, a mobile app that enables sharing of drawings between desktop and mobile devices such as iPad and iPhone. With native support for DWG, ZWCAD Touch is surprisingly fast for opening, editing, and marking-up drawings on mobile devices. And, with synchronization using third-party cloud storage services, it helps project managers and design teams to keep in touch with their ZWCAD+ drawings anytime, anywhere. Support for Android and Windows Phone will come later.
Kanti Purohit, CEO of ZwcadUSA, comments, "Keep in touch on the go with ZWCAD Touch. Anytime. Anywhere. That is the power and the call-to-action of ZWCAD Touch. Now, on-site project mangers and clients can easily collaborate on their ZWCAD+ drawings with the rest of the design team using their mobile devices. Despite much less computing resources of mobile devices, ZWCAD Touch performs a ton of important tasks with amazing speed for drawings as large as 10MB."
Purohit continues, "ZWCAD Touch is a free app for iPad and iPhone. Combined with the recent announcement of free update to ZWCAD+ SP2, we just keep on adding value to ZWCAD Plus - the AutoCAD Alternative with the closest AutoCAD experience."
ZWCAD Touch comes with a set of tools, including multi-touch support, to facilitate interaction with drawings on mobile devices. And, it works in conjunction with third-party cloud storage services such as DropBox GoogleDrive, and SkyDrive to store and synchronize drawings with the desktop. ZWCAD+, on the other hand, is its full-function complement for the desktop to create, draw, and edit drawings for the mechanical/manufacturing and AEC industries.
Visit ZWCAD Touch to learn more. To experience the power of ZWCAD+, download free trial of ZWCAD+.
About ZWSoft and ZwcadUSA
ZWSoft is a world-renowned CAD solutions provider, with over 320,000 clients across 80 countries. With a reputation as a committed and reliable leader to the AEC and MCAD industries, ZWSOFT has created design software products that have continuously satisfied the needs of 2D and 3D design, operations, and manufacturing. Some of ZWSOFT's major clients include Siemens, Sony Ericsson, Panasonic, Carrefour, and Saint-Gobain.
ZwcadUSA empowers US-based companies to extend their design life cycle to everyone that needs 2D and 3D self-service in AEC, GIS, and Mechanical/Manufacturing applications.  Beyond designers, the life cycle can extend to purchasing, proposal and documentation writers, field application engineers, sales people, support engineers – for design, detailing, QA, demonstration, configurations, pricing, tracking, online support, and more. The extended team is fully empowered to get the 2D and 3D information they need, use it, and share it with others. For more information, please visit http://www.ZwcadUSA.com.