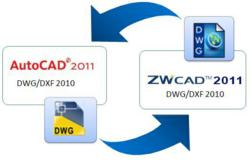 This update release underscores ZWCAD's commitment to offer an alternative to Autocad with the closest AutoCAD user experience at one-fiftth the price od AutoCAD.
Boston, MA (PRWEB) July 19, 2011
ZwcadUSA, the exclusive Master Distributor for ZWCAD in North America today announced the release of the latest Update Release of ZWCAD 2011. New capabilities in ZWCAD 2011 embody enhancements most requested by our customers - increases stability and makes user experience smoother for frequently used features.
This update is at no cost to current ZWCAD 2011 customers. All ZWCAD 2011 customers are urged to install this update as soon as possible because it also stamps out many bugs reported by our customers. Please visit ZwcadUSA Update Release for the update details and procedure. Customers with earlier versions of ZWCAD can upgrade to the ZWCAD 2011 to gain the benefits of the latest release. They can do so for a nominal fee by visiting http://www.eStore.ZwcadUSA.com.
Kanti Purohit, CEO of ZwcadUSA, comments, "This update release underscores ZWCAD's commitment to offer an alternative to Autocad with the closest AutoCAD user experience."
Purohit continues, "Once again, ZWSOFT sets a new standard by adding value to ZWCAD which is the most stable among all AutoCAD Alternatives, offers rich functionality, and costs one-fifth (1/5th) the price of Autocad."
Highlights of this ZWCAD 2011 update release include

Improved file compare -- now compares changes to block entities, block attributes, font styles, and dimension attributes
New SelectionPreview system variable – controls the preview display when selecting entities
Improved snap -- significantly improves the accuracy and efficiency of snap operations, especially when working with large drawings
Optimized APIs – makes it easier for users to write more powerful applications with LISP, VBA, and ZRX, and migrate their ARX® applications to ZWCAD in less time
To experience the latest ZWCAD 2011, download a free trial of ZWCAD 2011 today. Click complete ZWCAD feature list for more reasons why you should switch to ZWCAD 2011.
To celebrate yet another milestone, ZwcadUSA is offering a huge 15% discount for all ZWCAD products, including upgrades, purchased from their eStore before July 31, 2011. Please visit ZWCAD Update Release Discount Offer to get your discount coupon code. Please note that no other offer, discount, or coupon code can be combined this offer.
About http://www.ZwcadUSA.com
ZWCAD is a powerful AutoCAD Alternative for 2D and 3D CAD software with native DWG format. ZWCAD 2011 assures unrivaled compatibility with AutoCAD® & Windows® Operating Systems including Window® 7 32- bit and 64-bit environments. For more information, visit Top 10 Reasons to Buy ZWCAD.
ZWCAD target market includes CAD users in mechanical, manufacturing, plant, architecture, engineering, construction (AEC), civil, water, GIS, and landscape architecture. More than 200,000 customers use ZWCAD in over 80 countries.
###