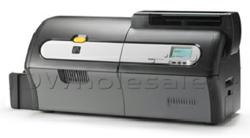 Chanhassen, Minn. (PRWEB) February 19, 2013
In their continuous effort to provide the latest in photo identification, ID Wholesaler has added two new ID card printers to their line-up of photo ID equipment and supplies. The new single- or dual-sided Zebra ZXP 7 offers optional single- or dual-sided lamination, while the Magicard Rio Pro Xtended allows printing of extra-long cards.
Zebra ZXP 7 ID Card Printer
Printing up to 300 full-color cards per hour, the Zebra ZXP Series 7 ID card printer is built for high-speed, high-quality printing. Built-in USB and Ethernet connectivity allow users to operate card printing programs seamlessly over a network connection or at a single work station.
To deter unauthorized users, the ZXP Series 7 is equipped with physical locking mechanisms, software to assign access privileges, and a Kensington lock slot for securing the printing to its station. For secure, durable cards, optional single- or dual-sided linerless lamination is available. Other optional upgrades include dual-sided printing and card encoding.
Magicard Rio Pro Xtended
Those looking to print on extra-long cards can turn to the Magicard Rio Pro Xtended ID card printer. It can print on cards up to 4.33" long (or 5.51" long pre-printed). The long card format is ideal for security badges at sporting or music events, cards with an attached keycard, and more.
The Rio Pro Xtended features Magicard's exclusive HoloKote technology that allows you to add a watermark during the regular printing process without any added costs. In addition, the Rio Pro Xtended offers built-in Ethernet, batch and single-card printing modes, and optional card encoding. The printer is backed by a three-year manufacturer warranty which includes printhead coverage and free loaner service.
Extended warranty plans are available from ID Wholesaler for both printers, which include toll-free technical support, live chat support, total parts and labor replacement, and fast turn-around on printer repairs. This satisfaction-guaranteed service is handled in-house by ID Wholesaler's experienced in-house technical support team.
To learn more about these two new ID card printers, visit IDWholesaler.com or talk to an ID Professional at (800) 321-4405.
About ID Wholesaler
ID Wholesaler is the largest online retailer of photo identification products, serving its clients with guaranteed lowest prices, expert advice, and free support on everything they sell. ID Wholesaler stocks a broad selection of ID card printers and systems, software, supplies, and accessories from the leading manufacturers. For more information visit http://www.IDWholesaler.com.