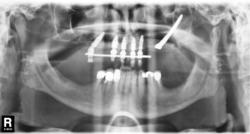 Hove, East Sussex (PRWEB UK) 15 June 2013
East Sussex-based Brighton Implant Clinic has begun offering patients yet another dental implant innovation: zygomatic dental implants. These implants are designed for the teeth repair and replacement needs of patients who have little or no bone in their upper jaw. They thus allow these patients to get their teeth replaced and repaired more immediately and effectively than treatment options requiring pre-treatment bone transplantation do.
"We're committed to offering quality dental care to all patients, especially those with special needs. This dental implant treatment is ideal for those whose jaws are severely resorbed and thus require pre-treatment bone grafting for any implant placement to be done," says Dr. Bruno Silva, Principal Dentist of Brighton Implant Clinic. "Across the world, these implants are recognized as one of the leading restoration solutions for the upper jaw. Zygomatic dental implants thus have proven to be an excellent supplement for broken or missing teeth along the upper arch of the mouth."
Zygomatic implants are placed into the zygomatic bone, also known as the cheekbone. They are ideal for implant placements needed in the upper arch, an area known in dentistry for its difficulty in restoration because of its proximity to the sinus and the lack of bone quantity and quality in that region. Despite the difficulty, for years patients have expressed marked improvements in their teeth's appearance and their daily life as a result of the surgery.
Brighton Implant Clinic's dental implant surgical team has undergone training for zygomatic implant placement at the Malo Clinic in Portugal and leading training centres in Belgium and Brazil. Each of these training centres are recognized as global leaders in instruction of best methods for dental implant treatments, and Brighton Implant Clinic's award-winning surgeons are among very few dental implant surgeons in the UK who offer this treatment. Dozens of patients at Brighton Implant Clinic already have had success with the procedure and have noted the improvements the dental implants have brought in their daily lives and confidence.
"Quality dental healthcare which gives our patients the best oral health possible for a lifetime—that's our commitment to all of our patients," continues Dr. Silva. "Each patient who walks through our doors can take confidence that we'll do everything in our power to ensure he or she gets the most high-quality dental healthcare possible."
Brighton Implant Clinic has three clinic locations located in Hove, Hailsham, and Brighton, and is a two-time award winner of the Private Dentistry Awards. The practice's staff has collective experience of decades of implant placement and treatment services, and is internationally reputed for its world-class patient care and top-quality dental implant and treatment services, with patients venturing from as far as Australia and the United States for treatment.
Please visit http://www.brightonimplantclinic.co.uk to learn more about the practice's services and schedule a free initial consultation.