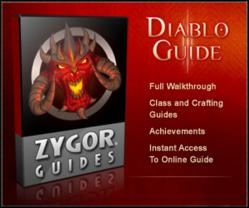 The Zygor Diablo 3 guide, with more details at zygordiablo3guide.com, has been released by John Cook of Zygor guides.
(PRWEB) May 16, 2012
Diablo 3 will be a genre-redefining title. Players will get control of five different classes, fighting demons and saving the world in a dark-themed saga concentrated around the vast world of Sanctuary. The game has been redesigned for a more rich and challenging experience. To help players during their journey to level 60, John Cook released his Zygor Diablo 3 Guide.
For many years John Cook played World of Warcraft and focused on speed leveling. He managed to achieve several feats that got a hype started around him on the Blizzard message boards. Once he discovered that he has a talent for leveling fast and efficiently, John put together all his knowledge and released a guide for World of Warcraft. He didn't stop there. John continued to improve his guide, released versions for each expansion and added in-game addons to eliminate the need to exit the game to read his instructions. His expertise and talent for speed leveling made him focus on Blizzard's new title, Diablo 3.
The Zygor Diablo 3 guide, with more details at zygordiablo3guide.com, has been released to help players level up faster and reach the cap while others run aimlessly. John Cook took the time to play the game, write down every single aspect and build everything together into an easy to follow guide. To make things easier to comprehend, the guide is divided into multiple modules covering questing, speed leveling, gear optimization, class specifics and achievements.
Inside the guide, players will find everything they need to gain an advantage over their opponents. The full game walkthrough follows the entire storyline from act I to act IV, including the sidequests. Players will also gain access to the classes and builds guide that contains all the information needed to build a strong character properly optimized for power leveling. Furthermore, the crafting and followers guide teaches players how to master these two game systems and create powerful items for their class. Last but not least, the achievements guide offers valuable information and step-by-step instructions for the Diablo 3 completionist. The entire packages comes at a competitive price making the Zygor Diablo 3 Guide a must have for every player looking for a resource that can give them a boost to master the game as fast as possible.
More review and details available at http://zygordiablo3guide.com.