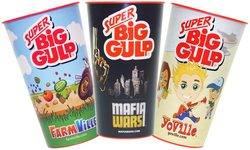 Attracting millions of consumers to 7-Eleven stores with exclusive items for Zynga games creates an additional opportunity for them to try some of our newest products, like our proprietary 7-Select™ ice cream and candy, along with long-time favorites
Dallas, TX & San Francisco, CA (Vocus) May 25, 2010
In one of the broadest product promotions in its history, 7-Eleven, Inc. is partnering with Zynga to offer FarmVille-, Mafia Wars- and YoVille-branded items on many of the convenience retailer's products, including signature Slurpee® and Big Gulp® drinks in nearly 7,000 stores across the United States and Canada. The innovative campaign, the first retail tie-in for Zynga, will allow millions of consumers to redeem exclusive virtual items within Zynga games during a six-week campaign beginning June 1.
As a part the promotion, 7-Eleven will unveil an advertising campaign across satellite and local radio as well as print, online and outdoor. Also, vignettes featuring characters from MTV's popular programs will air as the campaign hits stores.
Consumers will be able to purchase specially marked products to receive a redemption code that can be used for a new, limited-edition virtual good in one of three Zynga hit games. Product codes can be redeemed online at http://www.BuyEarnPlay.com. In addition, consumers can also earn an über gift in each game by purchasing unique qualifying items and participating in at least one in-game activity, like mastering a crop in FarmVille, vaulting a collection in Mafia Wars and redeeming seven items in YoVille. For FarmVille, the über gift is 200 FarmVille cash; Mafia Wars, 50 Skill Points, and YoVille, a virtual Slurpee machine.
"7-Eleven's partnership with Zynga has launched one of the most unique campaigns in our company's history," said Rita Bargerhuff, 7-Eleven vice president and chief marketing officer. "It gives millions of loyal fans, who regularly play Zynga games, access to incentives on more than 30 products in our stores. The Zynga universe of gamers is vast, and we knew we had to come up with a promotion fit for this demographic. Attracting millions of consumers to 7-Eleven stores with exclusive items for Zynga games creates an additional opportunity for them to try some of our newest products, like our proprietary 7-Select™ ice cream and candy, along with long-time favorites, such as Slurpee and coffee drinks."
"Through our promotion with 7-Eleven, we are expanding our reach and making our games more accessible to consumers," said Vish Makhijani, senior vice president of business operations at Zynga. "The opportunity to collect exclusive items for FarmVille, Mafia Wars and YoVille that are found only at 7-Eleven stores creates a unique way for players to get the best social experience in our games."
7-Eleven's promotion runs through July 15 or while supplies/coded products last. Exclusive virtual items and corresponding 7-Eleven products include:
FarmVille

Fun Slide – Slurpee cups
Big Splash – Big Gulp cups
Coffee Cart – Large iced coffee
Sandwich Cart – All fresh sandwiches
Chocolate Persimmon (Tree) – Cut fruit
Neapolitan Cow – 7-Select vanilla ice cream (pint size)
Water Tower – 7-Select bottle water
10 Fuel Tanks – Prepaid FarmVille game card
Mafia Wars

Showman (weapon) – Slurpee
Trio Diva (vehicle) – Big Gulp
Lone Wolf (weapon) – 20-ounce coffee
Sleek Bulletproof Vest (armor) – pizza, chicken wings, Big Bite products, chicken tenders and breakfast quesadillas
Pepper Shaker (weapon) –hash browns, taquitos, Burrito Rollers, potato wedges
Palermo Prowler (vehicle) – 7-Select chips
Combat Helmet (armor) – Prepaid Mafia Wars game card
YoVille

Wall Freezer – Slurpee
Hamburger Stand – Big Gulp
Coffee Machine – 7-Select packaged brownies
Donut Display – 7-Select packaged cake donuts, four-pack
Candy Stand – 7-Select candy
Soda Machine – 7-Select orange soda
Nacho Machine – Prepaid YoVille game card
In conjunction with the launch of this promotion, 7-Eleven unveils its revamped website (http://www.7-eleven.com) on June 1. The new website, which includes more content and graphics, is expected to resonate particularly well with the millennial crowd. Its home page will feature the Zynga promotion throughout the 6-week campaign.
Contacts:
7-Eleven, Inc.
Margaret Chabris
972-828-7285
Zynga
Lisa Chan
415-706-1834
About 7 Eleven, Inc.
7 Eleven, Inc. is the premier name and largest chain in the convenience retailing industry. Based in Dallas, Texas, 7-Eleven operates, franchises or licenses close to 8,200 7-Eleven® stores in North America. Globally, 7-Eleven operates, franchises or licenses more than 38,000 stores in 16 countries. During 2009, 7-Eleven stores worldwide generated total sales of more than $58.9 billion. 7-Eleven has been honored by a number of companies and organizations recently. Accolades include: #3 spot on Entrepreneur magazine's Franchise 500 list for 2009, #3 in Forbes magazine's Top 20 Franchises to Start, #3 among Top 100 Global Franchises by Franchise Direct, #3 in Store Growth by Convenience Store News, #2 in Franchise Times Top 200 Franchise Companies and #29 among Top 100 Chains in Food Service. In addition, Hispanic Magazine named 7-Eleven in its Hispanic Corporate Top 100 Companies that provide the most opportunities to Hispanics. 7-Eleven recently was selected by three diversity publications as a company offering the best career and franchisee opportunities. 7-Eleven is franchising its stores in the U.S., and is expanding through organic growth, acquisitions and its Business Conversion Program. In addition, the company received the 2009 Shopper-Centric Marketing Innovation from Symphony IRI and the 2010 Retailer of the Year award from PL Buyer because of the company's private-label brand program. Find out more online at http://www.7-Eleven.com.
About Zynga
Zynga has over 230 million monthly active users playing its games. These games include FarmVille, Treasure Isle, Zynga Poker, Mafia Wars, YoVille, Café World, FishVille and PetVille, which are available on Facebook, MySpace, Yahoo! and the iPhone. Through Zynga.org, Zynga players have raised over $3 million for world social causes. Zynga is headquartered in Potrero Hill in San Francisco. For more information, please visit http://www.zynga.com and http://www.zynga.org.
# # #