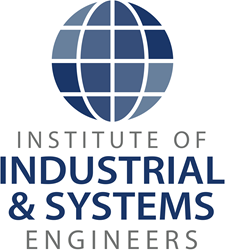 Norcross, Georgia (PRWEB) June 07, 2017
The Institute of Industrial and Systems Engineers (IISE) proudly presented Harvey Wolfe of the University of Pittsburgh with the Frank and Lillian Gilbreth Industrial Engineering Award at the 2017 IISE Annual Conference and Expo in May.
Presented annually since 1962, the Frank and Lillian Gilbreth Industrial Engineering Award is the highest and most esteemed honor IISE bestows. It recognizes those who have distinguished themselves through contributions to the welfare of mankind in the field of industrial engineering. The contributions are of the highest caliber and nationally or internationally recognized.
Harvey Wolfe is professor emeritus of industrial engineering at the University of Pittsburgh. He is an IISE fellow and served on the IISE board of trustees as president from 2003 to 2004 and as senior vice president, academic, from 2000 to 2002. Harvey joined the industrial engineering faculty at the University of Pittsburgh in 1964 and retired in 2006. He served as chair of the industrial engineering department from 1985 to 2000 and also served as head of the Council of Industrial Engineering Academic Department Heads (CIEADH). Wolfe received IISE's 2008 Albert G. Holzman Distinguished Educator Award and is the co-author of three books and numerous journal articles. He received his B.E.S. in industrial engineering and his M.S.E. and Ph.D. in operations research, all from Johns Hopkins University.
The institute also presented its Captains of Industry Award to David Baker of DirecTV, Francis Kramer of II-VI Inc. and Severn McMurtry of FedEx Ground. IISE's Captains of Industry Award honors leaders in business, industry and government such as presidents, CEOs, senior vice presidents and directors of organizations with substantial sales, assets, employment or other resources.
David Baker retired in December 2016 after more than eight years as senior vice president of field services for AT&T. Baker oversaw the company's national network of installation and service providers for DirecTV and was charged with improving the operational efficiency and quality of the customer experience. Previously, Baker served as executive vice president and COO for On Command Corp. and as CFO and COO for DirecTV Japan. Baker holds a Ph.D. in mineral economics with a specialization in operations research from the Colorado School of Mines, as well as master's and bachelor's degrees in industrial engineering from West Virginia University.
Francis Kramer joined II-VI in 1983, serving as its president from 1985 to 2014, its CEO since 2007 and its chairman and CEO from 2014 to 2016. He now serves as the company's chairman of the board of directors. Kramer holds a B.S. in industrial engineering from the University of Pittsburgh and an M.S. in industrial administration from Purdue University. Kramer has served as director of Barnes Group Inc., a publicly traded aerospace and industrial manufacturing company since 2012. Kramer provides the II-VI board and the company with guidance on growth strategy, in particular on the profitable and sustainable execution of the strategy to achieve sustainable competitive advantage. He contributes considerable business development experience, having completed 20 acquisitions in 20 years adding nearly $700 million in revenue and significant operations experience relevant to II-VI's vertical integration strategy and globalization.
Severn (Sev) McMurtry is the senior vice president, operations planning and engineering for FedEx Ground, headquartered in Moon Township, Pennsylvania. McMurtry has more than 29 years of experience working for FedEx Ground. He joined FedEx Ground's predecessor RPS Inc. in 1986 as an operations engineering analyst and worked his way up through the ranks. He became a manager in 1993, a director in 1996, a vice president in 2003 and a senior vice president in 2008. McMurtry earned his bachelor's degree from The Pennsylvania State University and his master's degree from Carnegie-Mellon University. He also has been honored with the prestigious FedEx Ground Five Star Award.
The awards were presented May 22 at the IISE Annual Conference and Expo 2017 at the David L. Lawrence Convention Center in Pittsburgh.
About the Institute of Industrial and Systems Engineers: The Institute of Industrial and Systems Engineers is the world's largest professional society dedicated solely to the support of the industrial engineering profession and individuals involved with improving quality and productivity. Founded in 1948, IISE is an international, nonprofit association that provides knowledge, training, networking opportunities and recognition to enhance the skills and effectiveness of its members, customers and the profession.
For more information about IISE honors and awards, contact Bonnie Cameron at (770) 449-0461, ext. 105, or bcameron(at)iise(dot)org, or visit the IISE website at http://www.iise.org.