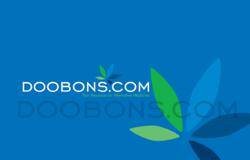 We are aware that new medical marijuana patients can be intimidated by the overwhelming variety of available options
San Francisco, CA (PRWEB) July 14, 2012
Medical marijuana can be confusing for new patients who are unfamiliar with the industry. Doobons.com, the leading online medical cannabis resource, explains different options patients have for using cannabis to effectively treat a range of ailments.
"We are aware that new medical marijuana patients can be intimidated by the overwhelming variety of available options," said John from Doobons. "Our goal is to make medical marijuana easy to understand for patients who need professional, discreet answers. Something we get asked a lot about is the best method for consuming medical marijuana other than smoking."
Doobons breaks down patients' other medical marijuana options:
Vaporizers
Vaporizing is a popular choice for inhaling medical marijuana without the harmful effects of smoking. Vaporizers heat the marijuana without burning the plant, so the patient inhales the benefits of the active compounds without all the toxins normally produced by smoking. This is a good option for patients with severe appetite loss who don't want to smoke or cannot smoke.
Vaporizers range in size and price. Smaller battery-operated vaporizers are beneficial as a portable smokeless delivery system that can be used in places that don't allow smoking, while the larger plug-in devices are able to produce more powerful doses.
Find more information about the benefits of vaporizers: http://www.doobons.com/blog/2012/05/25/vaporizers-prove-effective-in-treating-medical-marijuana-patients/
Pills
The medical marijuana pill Idrasil is gaining popularity as patients become more aware of their benefits. With a pill, there is no smoking or inhalation of any kind and Idrasil's standardized 25-mg tablet delivers a consistent potency every time.
Idrasil, a product of C3 Patients Association, can be used to treat a variety of ailments and conditions such as AIDS and wasting syndrome, cancer, fibromyalgia, Crohn's disease, Alzheimer's disease, glaucoma, chronic pain, MS, Parkinson's disease, sleep disorders, anxiety and depression. It can also be useful for treating chemical dependency and withdrawal symptoms.
Medical Marijuana patients share their stories with Doobons. Learn more about how one patient used Idrasil to finally overcome her Crohn's symptoms: http://www.doobons.com/blog/2012/07/12/my-history-with-crohns-a-patients-story/
Oils
Hash oil or cannabis oil is useful for patients with more severe conditions, due to the higher potency and longer lasting effect. It is a more discreet option as well, as it can be added to food in the cooking process. The oil can also be infused in ointments, lotions, balms, or crèmes to apply topically in order to keep a clear head and regulate the dosage.
Cannabis oil is becoming a more well-known option for cancer patients. It made headlines recently when celebrity Tommy Chong announced he is using it to treat his prostate cancer, and a couple of years ago, pediatric cancer patient Cash Hyde made significant steps towards overcoming debilitating brain tumors when his father added cannabis oil to his treatment.
Find out more about the incredible story behind the Cash Hyde Foundation (cashhydefoundation.com): http://www.doobons.com/blog/2012/05/10/doobons-com-and-the-cash-hyde-foundation-team-up-to-fight-pediatric-cancer/
Edibles
"Edibles" are foods infused with cannabis or cannabis oil that also provide a quick and appetizing alternative to smoking. The effects of eating an edible cannabis product are strong and last much longer than other options.
It may be difficult to judge the dosage with edibles, because it can take up to 60 minutes to start feeling the effects. Cannabis oil or butter can be used as a cooking ingredient in any food that contains butter and/or oil to create edible medicine.
"The main thing to remember is that having options is good," said John. "Tailoring your medical marijuana use to fit your needs can not only drastically improve your quality of life, but help you feel more comfortable with your medication."
For more information about Doobons.com, call (415) 524-8099 or go to Doobons.com online.
Patients who want to share their story, please contact Doobons directly.
About Doobons.com
Doobons.com is an online medical marijuana resource for prospective and current patients, caregivers and medicinal cannabis industry professionals. The medical cannabis resource site is designed be a comprehensive source of information for everyone from novice medical cannabis users to experienced industry professionals. Doobons.com is discreet, safe and professional.
Doobons.com was designed to be convenient and to appeal to everyone, including those who are new to the world of medical cannabis. While most of today's online medical marijuana directories are designed for patients who already know at least something about using medical marijuana, Doobons.com is a marijuana directory designed to be user friendly for patients of all ages and experience levels.
Doobons.com is more than just another online medical marijuana directory. The site's News, Resource, and Blog pages provide valuable information and advice for patients and caregivers. The information posted helps new patients learn about the ins and outs of the world of medical marijuana, and existing patients stay abreast of developments.
The five-star-rated Doobons marijuana app is now available for free on the iTunes app store for iPhone 3GS, iPhone 4, iPhone 4S, iPod touch (3rd generation), iPod touch (4th generation) and iPad that runs on iOS 4.3 or later.
For more information about Doobons.com, call (415) 524-8099 or go to Doobons.com online.