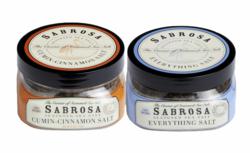 We expect them to be one of the shining stars in the gift bags. A universal product that all will enjoy.
Allentown, P.A. (PRWEB) September 28, 2012
Sabrosa Salt Company, a specialty food business founded in Easton, Pa, by sisters Melissa Quackenbush and Amanda Hart, will have their debut line of artisan blended Sabrosa Salts featured in the official gift bags at The 33rd Annual News & Documentary Emmy® Awards on October 1, 2012 in New York City. The gift bags will be presented to 800 attendees and will include two of their most popular blended artisan sea salt products, "Everything" and "Cumin-Cinnamon."
"We received the invitation from 'Off The Wall Gifts' just a week ago and are thrilled to have our Sabrosa Salts included in this prestigious event," says co-founder Melissa.
The official Emmy Award Show swag bags will include hand selected brands by the New Hampshire based company Off the Wall Gifts. "The sisters have a very nice business going; we are very pleased that our research team found them," said Val Wilson, producer, Official Emmy Gift Bags. "We expect them to be one of the shining stars in the gift bags. A universal product that all will enjoy."
The success that the sisters are experiencing comes as no surprise. "Each time someone tried our blended salt they complimented us on its quality and flavor and commented on the difference it made in the taste of their food," says Amanda.
The idea behind Sabrosa's finishing salts is quite simple; to make the everyday meal gourmet. All of the Sabrosa Salts use artisan sel gris, or "grey salt" that are rich in trace minerals, lower in sodium and hand harvested using centuries-old Celtic methods. Each Sabrosa Salt is blended with select herbs and spices; unlocking the natural intensity of flavors found in foods like beef, poultry, fish and vegetables.
The sisters got their start in 2011 by experimenting with sea salts and spices in their home kitchens; garnering praise from their families and friends who were unknowing taste-testers of many recipes. But had it not been for a series of events in which Melissa and Amanda found themselves among the unemployed that any of these sea salt creations would have been experienced beyond their dinner tables. It was then that Melissa and Amanda decided to seize the opportunity, pursue a new endeavor and transform their hobby into a thriving business of artisan sea salt products.
Since that time, the sisters have experienced momentous growth, landing their products on the shelves of The Fresh Market stores and other specialty retailers around the country. They are poised for great success and are helping even the novice cook to take a pinch of Sabrosa Salt and "Make the Everyday Gourmet!"™
# # #
About Sabrosa Salt
Sabrosa Salt Company, based in Easton, Pa, was founded in 2011 by entrepreneurial sisters Melissa Quackenbush and Amanda Hart. Their premiere product, Sabrosa Salt, is an artisan line of the world's finest 'sel gris' sea salts blended with just the right amount of select herbs and spices. The all natural, Kosher certified gourmet finishing salts are offered in seven distinct flavors to complement any dish and are available for purchase at The Fresh Market stores, specialty food retailers and gift shops, and online at http://www.sabrosasalt.com.
For more information, follow Sabrosa Salt Co. on Facebook or meet up with them at the upcoming Sugarloaf Craft Festivals® in Timonium, Md., October 5-7 and Gaithersburg, Md., October 12-14, 2012.