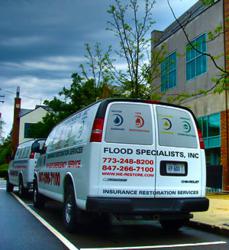 We take cold showers like millions of others without power. It helps us wake up and get back to work.
Chicago, IL (PRWEB) October 30, 2012
Flood Specialists, Inc., a disaster restoration company from Chicago, deployed a crew of disaster restoration specialists to the east coast with a convoy of equipment sent to help the local restoration companies in restoring the Hurricane Sandy affected east coast communities. The most devastated areas are located along the New Jersey coast, also known as the "Jersey Shores". Many of the popular attractions are gone now and some are so damaged that they cannot be restored.
Flood Specialists will be providing commercial rental equipment for the use in saving the water damaged commercial properties. Due to many power outages in the area, they have generators to power these special use, industrial, air movers and dehumidifiers. Customized water extraction equipment and pumping units will also be available.
Flood Specialists, Inc. is concerned about the homes and businesses ravaged by Hurricane Sandy and storms that followed. The teams will remain until a level of normalcy returns to the area. Until then the restoration specialists will continue pumping water out of underground garages and basements, drying and repairing structures, and comforting those who just need a hug.
Currently, the crew is staying in hotel without power but is providing emergency power via the generators they brought with them. They have to take cold showers but say it helps wake them up after a long day/night before. The people of New Jersey are showing their appreciation by donating warm meals to the guys from Chicago.
Anyone in the area who needs assistance or has any questions can contact our office 24-hours a day.
About Flood Specialists, Inc.:
Flood Specialists, Inc. is one of the largest providers of water & flood damage restoration services in Chicago, IL and surrounding communities. They are IICRC certified and maintain an A+ rating with the Better Business Bureau. Visit http://water-damage-specialists.com for more information on water damage, or follow us on Twitter at @h20damageRepair.