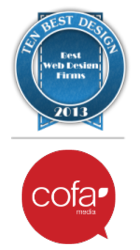 This March, [10 Best Design] named the creative design agency, Cofa Media, the #10 Best Web Design...
San Diego, California (PRWEB) March 19, 2013
10 Best Design (10BD) has grown substantially to become the web's premier destination for top ranked creative design agencies. The organization first began when its founders saw that the potential of the internet had vastly surpassed the web designs being produced by many major web design companies.
Since, 10 Best Design has been working to connect those seeking creative design services and the best web design firms of 2013.
This March, 10BD named the creative design agency, Cofa Media, the #10 Best Web Design Firm of 2013.
Cofa Media has experience working with clients in a wide range of industries. In addition, they have handled accounts with virtually every type of business model. They are a results-driven creative design agency who believes that their work translates into greater profitability, better brand awareness, and long-term market reach.
Cofa specializes in web application development & design, graphic design, and online marketing. This creative design agency believes in building ongoing relationships with its clients. To them, the process does not end when a site goes live.
Cofa Media goes beyond walking clients through the development process; they have a team of diverse experts who work with businesses to create successful marketing campaigns. They believe that making sure that a brand is known is a step in web design.
Cofa's creative design agency consists of carefully selected team members who specialize in professional design, writing, development, project management, and marketing. They constantly stay up-to-date on the latest developments and technologies of site design and programming.