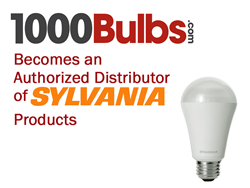 Dallas, TX (PRWEB) June 21, 2016
1000Bulbs.com is announcing the company has become an authorized distributor for SYLVANIA high quality lighting products for commercial and residential applications. The SYLVANIA brand has been known for its ground-breaking and reliable lighting for over 100 years. Customers will be able purchase the brand they know and trust with the convenient and knowledgeable 1000Bulbs.com customer service experience.
"It's been a dream of mine to offer SYLVANIA lighting products," says Kim Pedersen, 1000Bulbs.com CEO. "We appreciate SYLVANIA recognizing us as a major player in the lighting industry, and I'm excited to offer this improved experience to our customers."
As an authorized distributor, 1000Bulbs.com has complete technical and service support from SYLVANIA's sales and product management teams. This streamlines the customer experience, allowing sales representatives to answer product questions in a timely manner as well as providing accurate solutions for many lighting situations. All SYLVANIA products sold by 1000Bulbs.com are covered by OSRAM SYLVANIA warranties.
Contact:
Jeremy Foster
Vice President of Marketing and Product Development
1000Bulbs.com