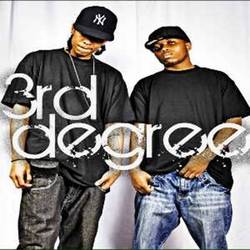 Basically, it symbolizes where we're from
Phoenix, Arizona (Vocus) March 17, 2009
North Carolina rap duo 3rd Degree Mob have signed an exclusive deal with 101 Distribution and are slated to release their full-length debut album First-N-Flight on May 26th, 2009.
The duo, comprised of childhood friends Michael "Picasso" Lyles and Demarcus "Luigi" Andrews, have developed their craft for the past eight years and in the process, became the cornerstone of the hip-hop movement in their hometown of Winston-Salem. Now the rhyme troupe is hoping to make a global impact as represented by their album title First-N-Flight.
"Basically, it symbolizes where we're from," Luigi explains. "The Wright Brothers were the first to fly the plane and they were based in North Carolina, and we feel like we're gonna do something big like be the first (rappers from Winston-Salem) to take off."
"We're two young cats out of Winston-Salem trying to do something positive," Picasso adds.
Their first single, "Like A Million Dollars," is a club banger that has already landed on 102 Jamz in Greensboro, North Carolina, as well as other radio stations in neighboring cities.
For more information or to purchase First-n-Flight, visit http://www.101d.com
About 101 Distribution: 101 Distribution (Phoenix, Arizona) began shipping music and video titles to independent and commercial retail stores in November of 2001. Today, 101 Distribution manages the digital, mobile, retail and mail order sales for more than 2,000 touring artists and record labels worldwide. The company operates as the only distributor that offers artists a 100% payout for all net sales royalties in exchange for a flat monthly fee. 101 Distribution catalog titles can be found in 5,500 retail stores throughout the US, Canada and 8 major foreign territories as well as dozens of legal download and subscription sites.
101 Distribution
2375 East Camelback Road, 5th Floor
Phoenix, AZ 85016
T: 602-357-3288
W: http://www.101d.com
# # #