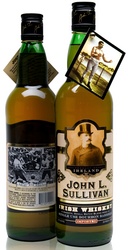 An icon of the saloon culture in the 1890's, his portrait hung on the wall of nearly every establishment across the nation
Boston, MA (PRWEB) January 4, 2010
John L. Sullivan, boxing's last Bare-Knuckle Champion, and first gloved champion under the Marquis of Queensberry rules, has returned to his native city of Boston, by way of a premium Irish whiskey.
John L. Sullivan Irish whiskey pays homage to the son of poor Irish immigrants: the first American athlete to become a national celebrity & to earn over $1 million, a renowned vaudeville performer, and a close friend of President Teddy Roosevelt. An icon of the saloon culture in the 1890's, his portrait hung on the wall of nearly every establishment across the nation. That legacy is now continued with an antique photo of the champ on the front of every bottle, and on the back a photo from his legendary 75 round Bare-Knuckle title defense in 1889.
The whiskey is crafted by the world-renowned Cooley distillery, Ireland's only native owned distillery. Cooley's was the winner of the '2008 World & European Distiller of the Year' award, and the 2009 'World's Best Irish Single Malt Whiskey' & 'World's Best Irish Single Grain Whiskey' awards. This blend of grain & malt whiskey is aged in Single Use Bourbon Barrels, resulting in a classically smooth Irish whiskey with the rich finish of America's bourbon. Maturation in first fill American oak bourbon barrels also pays tribute to John L. & the Irish American experience, as they too were the 'Product of Ireland', but 'Aged in America'.
As an initial gesture towards his native city and his humble beginnings, John L. Sullivan Irish whiskey has begun making donations to the Red Sox Foundation & the Greater Boston Food Bank, with the intention of increasing charitable giving as the brand grows.
"As a huge boxing fan and as an Irish American, it is a tremendous honor to launch John L. Sullivan Irish whiskey, and pay tribute to this icon with a premium Irish whiskey made by one of the best distilleries in the world. His story is captivating, and can be honored respectively in terms of boxing, the Irish American experience, and American history." Amir Peay – Importer
The perfect gift for fight fans, history buffs & whiskey aficionados, this special blend is now widely available in Massachusetts, Virginia, & Washington DC, at a suggested retail price of $22.99 for a 750 ml bottle. Orders can be placed online at Blanchards Wine & Spirits - http://www.blanchardsliquor.com/sku32265.html (shipping restrictions apply).
For additional information on John L. Sullivan Irish whiskey, visit http://www.JohnLWhiskey.com. For information on where to find John L. Sullivan Irish whiskey in MA, contact MS Walker Inc., (617) 776-6700, http://www.mswalker.com. 'John L. Sullivan' & 'John L.' are trademarks owned by Undisputed Intl. LLC.
"This son of poor Irish immigrants rose above the prejudice of his day, and his celebrity demonstrated a national shift towards the acceptance of Irish Americans." - Smithsonian National Museum of American History
ABOUT UNDISPUTED INTL. LLC – Undisputed Intl. LLC is a federally licensed spirits importer.
CONTACT:
Amir Peay
John L. Sullivan Irish Whiskey
(301) 518-3015
http://www.johnlwhiskey.com
# # #