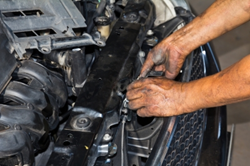 We are able to offer a better price on the second hand Hyundai motors that are part of our 4-cylinder inventory this year
Atlanta, GA (PRWEB) July 31, 2015
The manufacturing of the Accent motor vehicle series using the X3 platform helped Hyundai to establish its presence in the North American market in the early 2000s. As part of a new summer sale program, the Preowned Engines company is now reducing its price for all Hyundai Accent 1.4L engines that are in stock. More details about shippable inventory can be found at http://preownedengines.com/hyundai-accent-1-4-engine.
The Gamma series builds that are now discounted under the terms of the new price promotion program have two ratings of horsepower. The standard 1.4-liter is offered in 96 hp as well as the larger 106 hp edition that is the late model version of the G3FA editions. These builds can be ordered and installed into Accent cars built between 2005 to 2011.
"We are able to offer a better price on the second hand Hyundai motors that are part of our 4-cylinder inventory this year," said one PreownedEngines.com source.
The used condition 1.4-liter series blocks that are part of the new sales promotion will be shipped out to consumers with the standard plan for warranty coverage in place. Consumers will be required to use the phone or web activation center for warranty activation to ensure protection is registered correctly.
"We are expecting to reach more consumers by offering a new range of pricing as well as the long-term coverage plans for original parts protection in 2015," the source said.
The Preowned Engines ordering center will remain available during business hours offline at 1-866-320-1065 in the U.S. Consumers can also initiate a request using the contact system on the company website if support is needed.
About PreownedEngines.com
The PreownedEngines.com company provides access nationally to its used condition inventory from its website. Consumers in all 50 states explore the motor blocks that have been acquired for sale under MSRP pricing. The PreownedEngines.com company uses suppliers and other North American distributors to obtain its listed inventory and warranty service contracts.