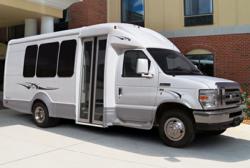 The safety of our customers is something we take very seriously.
Franklin, TN (PRWEB) April 11, 2013
With the recent rash of 15 passenger van accidents, Carpenter Bus Sales has partnered with Starcraft Bus & Mobility to come up with a safer alternative. The result is the Starcraft Starquest dual rear wheel 15 passenger bus.
"The safety of our customers is something that we take very seriously and the introduction of the Starquest is a big step in the right direction," says Henry Headden, president and ower of Carpenter Bus Sales.
The problem has been around for awhile and churches and organizations are starting to rethink their transportation options. In fact, the nation's leading insurer of churches has stated that "15-passenger van are inherently unsafe as currently used by many owners." They highly encourage "all organizations to strongly consider other transportation options."
Headden says, "The Starcraft Starquest 15 passenger bus with co-pilot is the perfect solution for those in the market to replace their 15 passenger van." With it's fully welded steel cage construction and long list of standard features, the Starquest can adapt to the needs of a variety of situations including hotels, private schools, resorts and churches. The Starquest offers a very aerodynamic construction. Drivers will welcome the improved handling and stability the Starquest provides with its dual rear wheels. Of all the buses for sale at Carpenter Bus, this bus sets the standard in elegance, luxury and maneuverability, making it one of the best values in the industry today.
Carpenter Bus Sales is a major provider of new shuttle buses as well as used buses for churches, shuttle service companies, schools, day care centers, and senior care centers. Established in 1953, Carpenter Bus Sales has a long standing tradition of providing transportation solutions to customers all across the United States and around the world. With their headquarters located in Franklin, Tennessee, Carpenter Bus Sales also has locations in Texas as well as Missouri. Carpenter Bus Sales is one of the largest stocking shuttle bus dealers in the country, with over 150 new and used buses for sale.