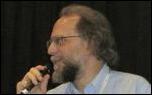 San Francisco, CA (PRWEB) February 14, 2005
Internet pioneer, John S. Quarterman, will participate in a panel at the RSA Internet Security Conference, to be held Feb 14-18 in San Francisco. Designing Risk Transfer Instruments for Internet Risk, will be presented on Thursday, February 17th at 3:30 p.m. at Moscone Center.
Quarterman proposes that technical solutions to Internet performance and security must be complemented by financial risk transfer strategies such as insurance. The panel will be joined by Robert Parisi of AIG and Steve Schoenberger of TechAssure and Mason and Mason. The panel will discuss the basics of cyber insurance and in this context Quarterman will discuss quantification tools and strategies available today.
About RSA
The 14th Annual RSA Conference is the largest and most comprehensive event for information security professionals
About InternetPerils Inc
Formed in 2003, InternetPerils Inc. provides automated products for Internet Business Risk Management. For more information, contact InternetPerils at http://www.internetperils.com
About John S. Quarterman http://riskman.typepad.com/about.html
Subscribe to Perilocity (John's Security Blog) http://riskman.typepad.com/perilocity
Editor Contact Info
John S. Quarterman
InternetPerils Inc
jsq@internetperils.com
+1-512-272-8506
Bill Gram-Reefer
WORLDVIEW
reefer@worldviewpr.com
+1-925-215-8463
###