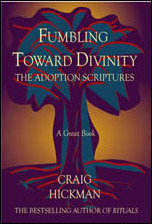 Gents, Bad Boys, and Barbarians
(PRWEB) February 15, 2005
Bestselling Author Craig Hickman had had enough of the secrets and cover-ups and lies and was determined to solve the mystery of his roots. A brilliant and inspirational vision of love and spirituality, "Fumbling Toward Divinity: The Adoption Scriptures" (Annabessacook Farm Hardcover, $27.95, Amazon.com), chronicles his quest for his birth heritage and the aftermath in a one-of-a-kind, ambitious, and stunning new memoir.
"Hickman's work is celebratory, jolting, instructive, and necessary." --Boston Globe
An estimated 7 million Americans are adopted. Depending on their age, many were adopted under the secrecy and shame of the closed adoption proceedings that ruled the day prior to the eighties. Unwanted pregnancies were covered up. Public and private agencies practically guaranteed young mothers and their families that they could go to their graves with their secrets intact. No one would ever find out who they were, least of all the children they were giving away. Adoptive parents got little, misleading, or no information about the circumstances surrounding their adopted child's birth.
Imagine growing up and having to witness your doctor mark large black X's through your medical file under the family history section because you have no idea what conditions or diseases run in your bloodline. Imagine living most of your life without ever seeing anyone who looked like you. Imagine that when you are finally old enough to get some information about where you came from, your file resembles a classified FBI document littered with long black streaks that render your born identity anonymous.
In this gripping and intimate memoir, Craig Hickman heeds the signs of his life and journeys into uncharted waters. After five years of searching, he shows up unannounced on his birth mother's doorstep. Craig's parents and sister are supportive of his search, as is Job, the Dutchman with whom Craig has shared the last four years of his life. Jennifer, a devout Seventh-Day Adventist, happy that her son has found her, attempts to allay her guilt and shame for giving him up and tries to make up for lost time. After all, she believes her son loves men because she abandoned him at birth.
Borrowing from ancient oral traditions, the story is told primarily in the third person whereby the telling of the story becomes part of the story itself. Set primarily in Milwaukee and Boston—with stops in Atlanta, St. Louis, Alabama, Maine, Ohio, and Wyoming—and peopled with unforgettable characters, Fumbling Toward Divinity weaves together several compelling lives and relationships in an unputdownable read. From the opening pages to the poignant conclusion, Craig Hickman re-invents the memoir and proves himself a master storyteller.
Part mystery, part history, part family saga, part divination—all of it true—Fumbling Toward Divinity bears witness to the transcendent power of spirit and love in an age of terror and madness. It delivers an emotional intensity that fiction, by comparison, can hope to achieve.
About the Author
Craig Hickman is a poet, performance artist, cultural activist, and author of The Language of Mirrors and the bestseller "Rituals: Poetry & Prose." He is the biological great grandson of Madree Penn White, national co-founder of Delta Sigma Theta Sorority. He received his bachelor's degree from Harvard University. He is a recipient of the Massachusetts Cultural Council Artist Grant, a James Baldwin Award for Cultural Achievement from the Massachusetts Lesbian and Gay Political Alliance, and a Gertrude Johnson Williams Literary Award from Ebony magazine. His solo performances, "skin & ornaments" and "Portraits of a Black Queen," have been staged all over the country. He appeared as himself in the feature film "Never Met Picasso," starring Alexis Arquette and Margot Kidder. His writings have appeared in "Gents, Bad Boys, and Barbarians," "Transgender Warriors," "Trans Liberation," "Taking Liberties," and "O Solo Homo," as well as numerous literary journals and newspapers. He lives in Maine. Visit http://hometown.aol.com/craighickman.
Fumbling Toward Divinity: The Adoption Scriptures
by Craig Hickman
Annabessacook Farm Hardcover
Publication Date: February 14, 2005
$27.95
373 pages
ISBN 0-9762462-0-1
Available at Amazon.com, Barnes & Nobles, and http://hometown.aol.com/abcfarmbooks/
###