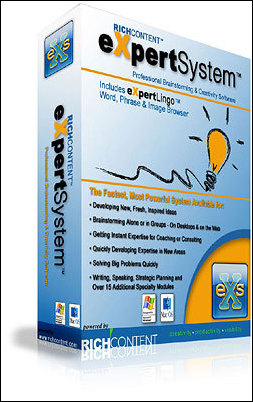 In a controlled test, students had 30 minutes to dream up as many ideas as possible
Portland, OR (PRWEB) February 22, 2005
Unleashing the creative beast within can sometimes be prompted, even enhanced by the new breed of "Associative Thinking" software applications, or so researchers at UC Irvine, Apple Computer and Coachville.com attest.
"In a controlled test, students had 30 minutes to dream up as many ideas as possible" says Mark Alan Effinger, currently heading Software Development at ThoughtOffice Corporation, makers of the ThoughtOffice Creativity Suite programs, Associative Thinking software tools that have been in development since late 2001.
According to Effinger, "the group that used a whiteboard and their own creative juices developed an amazing 19 ideas, with by far the majority coming within the first 10 minutes, then trailing to one every few minutes. In contrast, the group that leveraged their native creative output with the IdeaFisher Associative Thinking software averaged 2.2 ideas per minute; right up until the bell rang. The startling discovery was the sheer scope of the second group's ideas, covering every known discipline and area of study. It appears the software truly induces 'out of the box thinking' more than we had anticipated".
Other brainstorming and creativity applications help individuals attack problems from a number of different angles: visually tracking trains of thought (mind mapping and whiteboarding), through random images and words (thought joggers) to outliners that help to create a linear path for what are often non-linear process of the creative mindset.
The company has developed a number of specialty programs for Creative Writers, Public Speaking, Private Investigators, Consultants and Executive Coaches. There are also 17 separate specialty modules that attack various creative issues at the ThoughtOffice eXpertTopic Modules web page.
These idea-generating, brainstorming, writing and problem solving programs start at $97 retail. This includes a 9 milion+ word, phrase, and image Association Index capable of developing millions of unique associations; and Expert Topic Plugin Modules that drill-down on specific areas as diverse as Advertising, Writing (in all forms), Conflict Resolution, and Private Investigation work. These modules can be loaded directly into the ThoughtOffice Engine, and cost around $50 each.
ThoughtRod.com is a development center and marketer of creativity software, and a place for individuals who seek an outlet for their creative processes. Headquartered in Blaine, Washington, the company has been developing an extensive line of new products over the last 18 months, and will be delivering them to the market in late February of 2005.
The company is also working with creative individuals to develop new innovative programs based on the unique processes of individuals and companies. These processes are packaged by ThoughtOffice, secured, and marketed to coaches, corporations, consultants and educators as Expert Topic Plugin Modules, with a royalty going back to the creators of the content. To submit your module idea, please contact ThoughtOffice via the ThoughtOffice Contact Page.
The company can be reached at ThoughtRod.com, the ThoughtOffice e-Commerce site and at 360-450-6888.
# # #