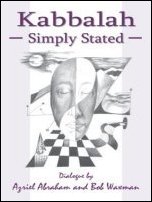 Sarasota, FL (PRWEB) February 28, 2005 -
– Robert Waxman the renowned Kabbalah writer and educator announced today his upcoming educational schedule for 2005. The schedule includes a range of educational classes and events in and around Florida. Robert Waxman is the author of the best-selling book, "Kabbalah Simply Stated" published by Paragon House. The book has received rave reviews and was recently featured twice on the Fox National Cable News Channel where Robert was interviewed live.
Kabbalah evolved from Jewish mysticism and speculates on the nature of divinity, the creation, the origin and fate of the soul, and the role of human beings. This ancient and powerful wisdom from Kabbalah has been embraced by people of all faiths. Kabbalah answers the basic questions of life and guides followers toward achieving unlimited satisfaction on a daily basis.
"The worldwide interest in Kabbalah is growing. The goal of my teaching is to present the subject in an easy to understand and engaging manner," said Robert Waxman. "I blend Kabbalistic wisdom with spiritual common-sense which leads to an innovative blueprint for personal transformation and spiritual illumination. My students adapt the wisdom of Kabbalah into all aspects of their everyday lives."
Robert Waxman was a student of Rabbi Azriel Abraham of Jerusalem from 1985 - 1998. He has co-hosted the national radio show, "Spiritually Speaking". Robert is a founding member of "The Kabbalah Education Network" and teaches at The Education Center and The Open Center in Sarasota, FL. He also teaches monthly classes in West Palm Beach, Boynton Beach and Sarasota at the Jewish Community Centers.
Roberts's best selling book "Kabbalah Simply Stated" is now available for sale in 12 countries around the world. Over the past two months he has been interviewed by seven radio stations around the country; The Peter Boyle Show on KHOW in Colorado, The Woody Woodland Show on WKBR in New Hampshire, The Brian Smith Show on WICC in Connecticut, Bill Shields - In The Dark on KBAR in Idaho, Jill Spiegal - Goal Getters on FM107 in Minnesota, The Tom Clay Show on KABI in Kansas, and Jay Burton - Jay Files on WFAD in Vermont. Border Books in Sarasota, Florida is hosting a book signing featuring Robert on March 26, 2005.
Thousands have enthusiastically embraced Robert Waxman's fresh and stimulating approach to Kabbalah in classes, lectures, seminars and workshops. He explains the scholarly writings of Gershom Scholem, Aryeh Kaplan and Isaiah Tishby in an entertaining and easy to comprehend manner. Classes are extremely interactive and new students are able to grasp the fundamental concepts quickly. The primary goal is to provide avenues for soul-healing, life-balancing and spiritual awakening. A full listing of these popular educational events can be found on Roberts's website at http://www.kabalist.com.
About Robert Waxman:
Robert (Bob) Waxman is a writer and educator of Kabbalah. He is the author of the best-selling book, "Kabbalah Simply Stated." He is a founding member of "The Kabbalah Education Network" and teaches at The Education Center and The Open Center in Sarasota, FL. He also teaches monthly classes in West Palm Beach, Boynton Beach and Sarasota at the Jewish Community Centers. To schedule a radio or TV interview contact Rosemary Yokoi at Paragon Books at 800 447-3709. For additional information, please contact Robert Waxman at 561-445-3880 or visit his website at http://www.kabalist.com
# # #