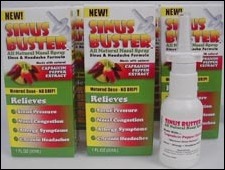 Albany, NY (PRWEB) April 4, 2005
When Sinus Buster hot pepper nasal spray made its' commercial debut in 2004, sales were small but interest was big. Within a just three months, this innovative product received a rush of media coverage including a feature in the Wall Street Journal and national coverage on NBC News.
Now barely a year after it's official commercial launch, Sinus Buster Hot Pepper Nasal Spray has become perhaps the most talked about headache and sinus remedy ever. Billed as the "World's first hot pepper nasal spray," Sinus Buster has quickly become the recommended natural alternative to dangerous prescription headache medicines and popular over the counter sinus products. With sales approaching the million mark for 2005, Sinus Buster is proving to be a hot seller with more than 50,000 regular web customers, 50 American retailers, and a handful of distributors in more than 15 countries. Sinus Buster is also recommended by several hundred physicians nationwide and more than 1,000 worldwide.
As 2005 sales figures continue to multiply, Sinus Buster is garnering the attention of big retail chains thus raising the bar for this homespun entrepreneurial venture. The manufacturer of Sinus Buster, SiCap Industries is presently beefing up their operation to supply the ever increasing demand, and the company is clearly gearing up for a mainstream retail push. Wayne Perry, SiCap's founder and the original creator of Sinus Buster, says the company was forced into taking the next step toward retail distribution due to its' enormous notoriety.
"We started just before January 2004 out of my mom's basement. Within 3 months we moved to a 900 square foot garage with a tiny custom built clean room. After 9 months, we moved to a 5,000 square foot building with all the amenities. That kind of success is a wonderful thing, but it also brings huge challenges for a start-up company which is what we were back then. Now we're entering the million dollar club and the bigger chain stores have started calling like crazy," says Perry.
As good as this all sounds, Perry is cautious about the company's fast success. For SiCap Industries, the huge demand for Sinus Buster has been both a blessing and a headache. Every boost in sales brings a boost in demand and a boost in expenses. At SiCap Industries, all the net profits are forced back into the company in order to feed their substantial growth. While many growing companies borrow cash to feed their expansions, SiCap Industries targets early profits and lean budgets to fund the first years of growth. For SiCap that means low liabilities and no outstanding creditors, but it also means limited operating capital and very tight budgets.
"We started this company with three hundred dollars and one employee – Me! From the start we've had to operate in a lean and mean mode which makes us a formidable competitor. And it's not like we don't spend money. We have a very aggressive research and development program and an equally aggressive marketing department. We've launched three new products since Sinus Buster in less than a year, and all of our products have been featured in numerous media outlets. This success is due to the most important tools of any product oriented corporation - Marketing and Quality Products. The third most important tool is your employees, and we've been lucky there too. You have to take good care of your people and give them incentives that make them part of the company's success. Unfortunately it all costs money. If you told me a year ago that we'd be selling fifty thousand dollars worth of products every month, I would have jumped for joy and put a down payment on a lotus elise, but when sales grow so do the expenses. Increased demand definitely means increased income, but it also means increased expenses. Upgrades in equipment and supplies. Upgrades in facilities. Bigger insurance costs. Every bit of our profit goes back into building the business, and I know it's the smart way to go as long as I live long enough to enjoy the future benefits," jokes Perry.
In 2004, SiCap Industries posted nearly $300,000 in sales. So far during the first quarter of 2005, Sinus Buster sales have topped $145,000 with volume increasing by 10% monthly since January. All this brand building has been accomplished with no real advertising budget although SiCap does credit "Google Adwords" and consistent media attention with their "Word Of Mouth" success. The key is SiCap's marketing style that combines lean paid advertising campaigns and sly media magnetism.
"We owe our success to the media and word of mouth. Since we began a little more than a year ago, our products have been covered worldwide in magazines, newspapers and on radio and tv. Our hot pepper based health products are unique and highly effective, and they make a great story for the media. We've received at least half a million dollars of free advertising thanks to the media and their insistence on getting the story out there. I mean Sinus Buster alone is a huge story that's barely been covered. This product has been proven to relieve chronic migraines, cluster headaches, sinus headaches, menstrual headaches and a bunch of others. It's also known to stop chronic allergy symptoms, and chronic sinus infections. Sinus Buster has even been shown to bring back the sense of smell for most people suffering from Anosmia, the loss of their sense of smell. We've also heard from doctors that Sinus Buster reduces the reoccurrence of nasal polyps, and it also helps with Sleep Apnea and snoring when taken before bed. Let's face it -- that's a real news story. Sinus Buster is worthy of being touted as a miracle drug of sorts. And our PepperCare skin cream relieves symptoms of Eczema and Dermatitis for 9 out of 10 people who try it. That's certainly a news story. Another product we have called PepperSlim can instantly suppress anyone's appetite within 3 minutes of drinking it. This is science that deserves international media attention," explains Perry.
Now SiCap is ready for the big leagues with the launch of their brand new retail box designed exclusively for the Sinus Buster Metered Dose Formula. SiCap recently joined the United Code Council (UCC), the governing body that oversees retail UPC barcodes. With their newly purchased UPC barcode, SiCap plans on steering their entire family of "Hot Pepper Health Products" into mainstream retail chains.
Sinus Buster hot pepper nasal spray is so well regarded by the global medical community that it's been backed by thousands of physicians regarding the treatment of chronic headaches, sinus and allergy conditions. This product is known to instantly relieve chronic headaches of any kind, and it's considered to be a true equalizer for relieving chronic sinus and allergy conditions.
Sinus Buster is presently undergoing "Phase One" clinical trials in the UK and Finland – both backed by hopeful researchers who see true promise in the world's first hot pepper nasal spray. According to SiCap officials, several American medical universities are also interested in conducting clinical trials using Sinus Buster for nasal polyps and Anosmia. Previous studies support the use of hot pepper extracts for relieving headaches and chronic sinus conditions, but research concerning hot pepper and other chronic sinus conditions is scarce.
"Though we've gotten some great publicity over the past year, the Sinus Buster story has barely been told and as the word of its' extreme effectiveness keeps spreading, we'll continue to get much deserved media coverage. I know there's some kind of article about us in First Magazine coming up in their May issue. I think it'll be on newstands April 12. We're excited about that one because that's a huge women's magazine with a top notch reputation for important health and wellness articles. As more media outlets learn just how miraculous Sinus Buster really is, you'll see news stories popping up everywhere. Don't be surprised if we're on 60 Minutes or 20/20 this year," Perry boasts.
Although Sinus Buster hot pepper nasal spray is a brand new concept in the treatment of chronic sinus and allergy conditions, its' future is promising to say the least. As for SiCap Industries, it seems this once tiny basement company has found a new way to health and wealth thanks to the medicinal power of hot peppers. For more information about SiCap Industries and their natural hot pepper based health products – visit them at http://www.sinusbuster.com. Product Samples, interviews and information kits are available upon request for qualified medical and media personnel.
# # #