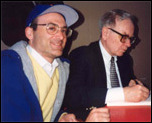 (PRWEB) April 27, 2005
Dr. Bruce Collin takes on the role of investment matchmaker at fundmatchmaker.com, pairing potential investors with the best mutual funds suitable to their investment personalities.
"I created the Fund Matchmaker Web site because I wanted to help people receive mutual fund advice based upon their own investment personalities rather than the typical cookie-cutter approach used by some other mutual fund advisors," Dr. Bruce says.
Fund Matchmaker provides a low-cost service that takes an individualized approach to recommending mutual fund investment advice to the general public. Dr. Bruce combines his passion for helping people wisely invest their hard-earned money along with his thorough knowledge of psychology and financial investing to select the best mutual funds for his clients. The matchmaking involves three steps, including a questionnaire, analysis of the results and recommendations.
The first step is to take the 20-item investment personality questionnaire. Dr. Bruce then analyzes the responses to develop an individualized investment personality profile. Using that profile, Dr. Bruce chooses a hand-selected portfolio from the more than 10,000 choices available to fund investors. He then offers a customized, one-page recommendation for the best mutual funds matching the client's investment personality.
Dr. Bruce's ability to analyze and develop an investment personality profile relates to the concept that psychology and money go hand-in-hand. "From couples going through a divorce, to new investors wondering how to invest their hard-earned money, to individuals trying to save for retirement, there is more and more research showing the important link between psychology and money," Dr. Bruce says. Understanding this link between the psychology of money and investing in mutual funds is an essential aspect of Dr. Bruce's analyses and matching of investors to their best mutual fund choices.
For the introductory price of $19.99, anyone interested in investing in mutual funds and receiving personalized recommendations can utilize Dr. Bruce's service. "I wanted to offer the service at a reasonable price so the general public could have access to mutual funds they might otherwise pass up," he says. The price for the service remains low mainly because everything is done online, and therefore does not involve the overhead costs that other financial service professionals charge.
Dr. Bruce has a doctorate in psychology and earned two masters' degrees at Fordham University. He is also designated a Chartered Mutual Fund Counselor by the College for Financial Planning in Colorado. Besides being a Phi Beta Kappa, magna cum laude college graduate and member of MENSA, Dr. Bruce's business/financial background include Procter and Gamble brand management experience and corporate training with Simon & Schuster (where he was an editor) and Pearson Education.
In addition to his mutual fund expertise, Dr. Bruce is most proud of his 1980 campaign to get a Best Actress Oscar award for Miss Piggy of the Muppets, an achievement that landed him in the Encyclopedia Britannica and was widely acknowledged by more than 40,000 letters of support from Miss Piggy fans all over the world.
About FundMatchMaker.com:
Fund Matchmaker is an online company that provides individualized investment advice to those interested in investing in mutual funds. Through in-depth research and analysis, Dr. Bruce matches the best mutual funds with the client's investment personality. For more information about Dr. Bruce's innovative mutual funds investment advice service, visit http://www.fundmatchmaker.com.
Contact:
Dr. Bruce Collin
Fund Matchmaker
201-662-9723
# # #