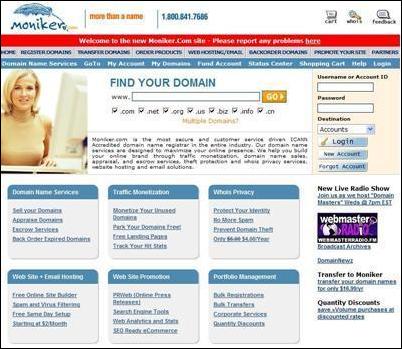 Our team has worked hard to deliver the domain sales, escrow, hosting and registration services that our customers requested
Pompano Beach, FL (PRWEB) May 19, 2005
Leading ICANN accredited domain name registrar Moniker.com today announced a suite of new improved domain name services now available at http://www.moniker.com. A new Web site platform launched today, includes domain name after market services and new domain hosting and registration tools.
"This is a very exciting time for us," said Monte Cahn, CEO of domain name services and registrar Moniker.com. "We built the new website based on research, comments and requests from our customers. We believe we have the best security, customer service and domain name after market services in the industry."
"Our team has worked hard to deliver the domain sales, escrow, hosting and registration services that our customers requested," stated Moniker Chief technical Officer Ricardo Mercado. "I am very proud of the team and the finished product – our new website and customer offering." Some of the new domain name services include:
1) Enhanced Domain Protection and Domain Name Account Security
2) Integrated Shopping Cart
3) Sub Account Support
4) Bulk Domain Pushing With Special Security Authorization Code
5) Batch Order Processing for Large Domain Portfolios
6) Express Domain Name Registration
7) Secondary Market Domain Choices When Registering New Domain Names
8) Integrated Domain Hosting, Registration and Domain Parking Revenue Services
9) Domain Name After Market Services Such As Domain Sales, Traffic Monetization, and Escrow Services
10) New Order Status Center
11) Enhanced Account Transaction and Accounting History
12) Multiple Credit Card Secured Storage
13) Domain Name After Market Product and Service Offering Such As SEO Tools, Public Relation & Press Releases, Legal Resources, and Partners
14) Powerful New Domain Name Services and Management Features
*a. Advanced Domain Search & Filtering
*b. Domain Categorization Manager
*c. User Defined Domain Management Views
*d. Enhanced Bulk Domain Contact and DNS Management
*e. Enhanced Bulk IP Management
*f. Enhanced Bulk URL and EMAIL Forwarding
*g. Domain View Integration with Product Purchasing
*h. Downloadable Special Domain Name Services and Account Reports
15) Online Feedback and Issue Reporting
About Moniker.com
Moniker.com is one of the top three fastest growing ICANN-accredited Internet domain registrars and domain name services providers. Moniker is a global leader for domain name after market services, domain name sales, domain name registration and domain appraisals. Together with its affiliated companies, http://www.Coolhandle.com, a domain hosting and registration company, and http://www.DomainSystems.com , a leader in domain name purchase, domain escrow and domain name after market services, the company manages more than 1,000,000 domains for companies, organizations and individuals, and offers industry leading security and personalized customer service for all of its clients. Moniker clients include: The National Hockey League, Jupitermedia, http://www.tengoldenrules.com, and Lions Gate Films.
Media Contact:
Jay Berkowitz
954-984-8445
# # #