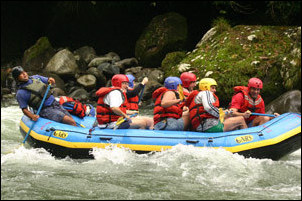 San Jose, Costa Rica (PRWEB) May 24, 2005
GoVisitCostaRica.com announces a summer itinerary of Costa Rican adventures and activities.
Have you ever wanted to zip through the rainforest canopy like Sean Connery in the "Medicine Man?" If so, then Costa Rica and its famous Canopy Tours can offer you your dream vacation. The activities in the small yet beautifully diverse country of Costa Rica don't stop there the country offers hundreds of different types of activities to do on your Costa Rica vacation. They range from Canopy Tours and hiking the rainforest to surfing and white water rafting. For the golf lover Costa Rica is host to a variety of courses throughout the country.
Canopy Tours have recently become one of the most popular activities in Costa Rica. On the tour, you are hoisted up to a platform in a tree about 50 feet up, securely tied to a zip line and then sent flying to another platform in a tree via a zip line. The small Quaker community of Monteverde is where the first Canopy Tours began, and have since spread out all over the country. This is truly an adrenaline filled experience that should not be missed.
July is a great month to experience some of the more traditionally popular activities like surfing and white water rafting. Surfing peaks on the Southern Pacific Coast of Costa Rica; this is when swells from the South Pacific produce some of the biggest and best waves of the year. These waves come into beaches like Pavones and Matapalo as well as beaches in the north like Tamarindo and Playa Grande just to mention a few.
White Water Rafting is also great at this time of the year. The rivers are overflowing from the previous months of rain and, in July the weather clears up from the rainy season and forms what is known as the "Veranito" or the little summer in Costa Rica.
Sportfishing is another popular activity in Costa Rica. The months of June and July on the Pacific and the Caribbean Coast are the best times to experience this deep ocean activity. There are many types of fish catch ranging from Dorado, Wahoo, Roosterfish and Tarpon.
Costa Rica is a country rich with nature and where there is nature there is adventure. Adventure Travel activities in and around Costa Rica are so plentiful you are sure not to run out of things to do.
For more information please visit http://www.GoVisitCostaRica.com where you can plan and book your next Costa Rica Vacation.
Media Contact:
Todd Sarouhan
http://www.GoVisitCostaRica.com
619-347-9409
# # #