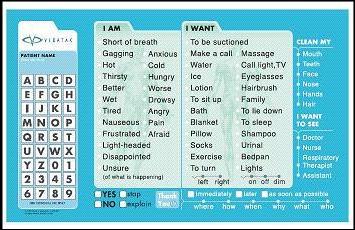 (PRWEB) June 29, 2005
Lance Patak, a critical care nurse at UCLA's Cardiothoracic ICU and creator of the EZ Board patient communication board, was interviewed by Larissa Branin for the radio talk show, Science Today. The interview discussed the features of the EZ Board and how its communication system, which was developed by patients, can meet the communication needs of intubated patients with significantly reduced frustration levels.
There are two kinds of Intensive Care Unit patients, according to Lance Patak. "You have patients who anticipate being in the ICU after elective surgeries, and you also have trauma patients, who were driving down the road and suddenly wake up with alarms going off and a tube down their throat. [Both kinds of patients] are unable to speak, and they have a lot of questions and concerns when they wake up."
Patient communication is limited in these situations and can be very frustrating for the patients, their nurses, and the patients' loved ones. Before the EZ Board patient communication board, patient communication was limited to how well a nurse could make out a patient's gestures or words around a tube, or in some situations, using an alphabet chart. Unfortunately, the alphabet chart was also severely limited.
"The problem [with the alphabet chart] is the patient starts to spell, but [the nurse] doesn't know when the word ends or a new one begins, or if they miss a letter, there's so much effort in trying to find the letter and go around, it's almost futile and exhausting for the patients."
The EZ Board patient communication board was designed by patients who were or had been in this situation. It features:
Large, easy-to-read text
"I Am…" column to indicate state of being (I am short of breathe, I am thirsty, I am afraid, I am in pain, I am unsure of what is happening)
"I Want…" column to indicate wants and needs (I want to be suctioned, I want my family, I want a blanket, I want the lights on or off)
Pictures of the body which the patient can use to indicate needs in a certain area
Color-coded pain intensity levels from 0-10 to describe listed discomforts (itching, stings, cramps, can't move, is numb, burns, is tender)
A time frame so the patient can indicate when he or she would like these needs met (immediately, later, as soon as possible)
"It also enables patients to thank their practitioner, something that many of the patients testing the patient communication board requested specifically," added Patak.
The EZ Board patient communication board is very lightweight and very inexpensive. According to research done by Patak, patients do not want the patient communication board to be something that the nurses or the hospitals own; they want to own it themselves. Patak designed the patient communication board to be affordable and disposable for that reason.
The EZ Board patient communication board has been utilized successfully at several hospitals, including UCLA. Patient evaluations have shown that the patient communication board can significantly reduce frustration levels, provide a more efficient method of patient communication, and decrease the need for pain or anxiolytic medication.
Patak believes the EZ Board patient communication board has the potential to reduce the hours of both surgical- and emergent-intubation as well as hospital stay, but states those variables need to be tested by an experimental study. At this time, that research has not been done.
The EZ Board patient communication board is available with either Spanish or English text. For further information about the EZ Board or to order a patient communication board, visit http://www.Vidatak.com. Excerpts from the Science Today interview can be reviewed at http://www.ucop.edu/sciencetoday.
About Vidatak, LLC
Established in 1999, Vidatak Enterprises began distributing their patient communication boards to hospitals all over the country. By 2003, Vidatak had changed its name, ownership, and business models. Now, Vidatak, LLC continues to present their research findings and critical care patient communication aids at various conferences, seeking distributors in critical care, rehabilitation medicine, and speech pathology and therapy.
# # #
Press Release Authoring and Search Engine Optimization by Xeal Precision Marketing